Ever since I opened up about my recent plastic surgery nightmare experience, many people have reached out with questions. Most specifically, asking how to choose a plastic surgeon who is reputable — truly representing the reviews written. So today, I welcome Melinda Farina aka The Beauty Broker (patient advocate specializing in plastic surgery for over 20 years). We discuss all things plastic surgery, including what you should and should not be looking for when choosing a doctor.
You'll find out:
Why you always have to question patient-review sites
Melinda's backstory
How long Melinda has been building her consulting agency
Melinda's original goal with her agency
How her business model has changed over the years (to ensure safety for patients)
How Melinda vets her plastic surgeons
Why most excellent surgeons don't need social media
Why people are often duped by credentials and followers, etc., re: doctors
How aesthetic style (ethnicity, skin, etc.) affects the type of surgeon who may be best for you
Why you can't afford NOT to hire a consultant for your plastic surgery needs
Why research (re: plastic surgeons) is smoke and mirrors these days
An easy fix to ensure the efficacy and trustworthiness of review sites
How review sites often lose their legitimacy
What people believe they need to do when picking a plastic surgeon vs what they should actually be doing
Questions you want to ask a prospective plastic surgeon
What is a fellowship re: doctors (and why some docs run them)
Advice for women who may feel intimidated asking their prospective doc questions
Melinda's thoughts on combining procedures
Should you go to a doctor who specializes in one or many procedures?
Melinda's controversial thoughts on injectables
Shifts in stigma re: plastic surgery
What surgeons are easily able to hide from the public
Will most plastic surgeons require you to complete a binding arbitration?
Why/how patients are intimidated by surgeons
Thoughts on the trend of going outside of the country for surgery
Thoughts on doing multiple (front and back) surgeries at once
General checklist of what to look for when seeking a plastic surgeon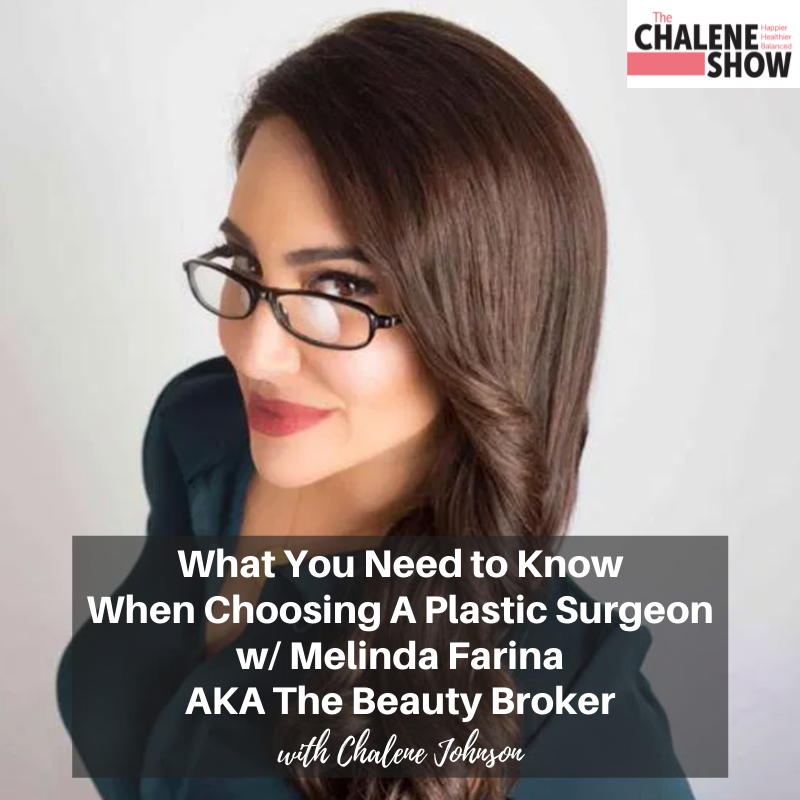 Important Links from the Show
Click here to subscribe to The Chalene Show!
Click here to rate and review!
Make sure you scroll down, tap to rate with 5 stars, and then select, "Write a Review." Then be sure to DM me with a screenshot and I'll do my best to read your review on the air! 
Learn more about Melinda and her services at www.thebeautybrokers.com
Follow Melinda on Social Media on Instagram @beautybrokerofficial on Twitter @BeautyBroker
If you liked this episode, check out Episode #738 – Breaking My silence | Plastic Surgery FAQ
Leave me a message about this episode!
To submit requests for The Chalene Show: thechaleneshow@chalenejohnson.com
To submit requests for Build Your Tribe: buildyourtribe@chalenejohnson.com