If you've been around these parts for even a little while, you know that I talk about all areas of life: mindset, career, fitness, relationships, goals, lifestyle, social media, happiness, personal dev, life hacks, beauty, fashion, and, yeah, just about everything in life!
That said, there's one thing above all — especially the last few years — you're constantly hearing from me. 
I know you KNOW what that is (if you're a true lifer)…
HEALTH
My mission these days has been to get you healthy from the inside out. And girl, you know I've been preaching and teaching this mission EVERYWHERE! #131Method
So, why did I just — all of a sudden — stop a few weeks back?
Well… check it out…
As the video attests, my most recent season was helping you grow your business. And while Marketing Impact Academy enrollment is now closed (congrats to all my new students!), I've decided to leave up my crazy popular IG Hacks just for you Snapshotters! Seriously, this comes down after the weekend! Don't miss out!
Cauliflower Rice Burrito Bowl Recipe!
Bret is at it again with his skillz in the kitchen! And color me blessed. I posted this quick clip on IG Stories and, dude, all the DMs! Y'all were asking me about exact measurements or portions or whatever they're called. As if that is anything I would ever know! Anyway, Bret was kind enough to throw me the recipe (not seen on Instagram, by the way) so I could share it with you here! Just watch till the end! You're welcome.
Oh! And I'd be remiss if I didn't share with you Butcher Box's newest promo! 
Right now, they're offering new members a FREE Ultimate Barbecue Bundle in their first box! Celebrate the start of grilling season with one of their best deals ever. The Ultimate Barbecue bundle comes with 3 grill-ready favorites, including: baby back ribs, 2 LBS of ground beef, and 2 NY strip steaks! This is like totes the best way to start your summer! Am I right or am I right?
Grab the Ultimate BBQ Bundle for FREE in your first box! That's a $59 value – and free shipping too! Supplies are always limited with BB (probably because of the Johnsons), so order now!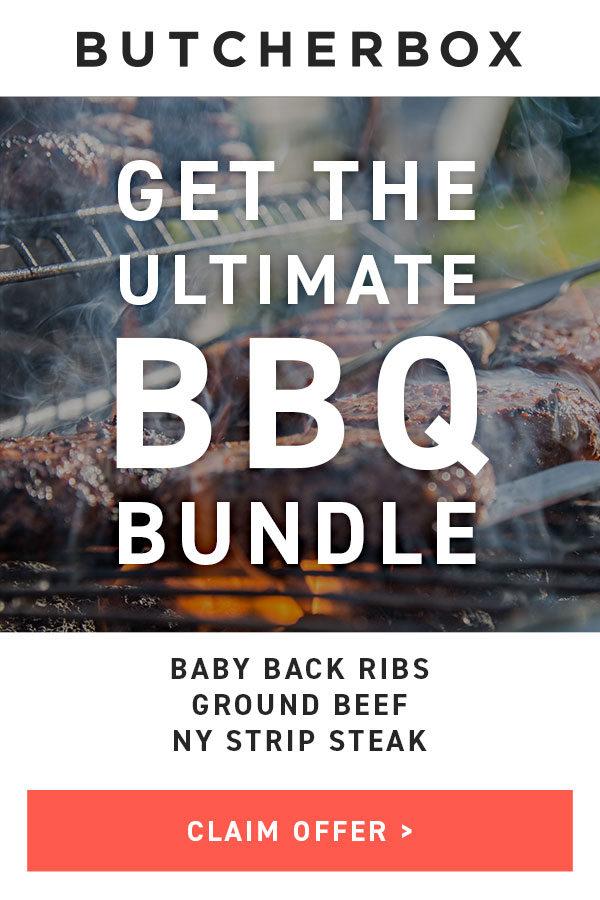 Podcast feature of the week: How To Be Happier and More Fulfilled In Your Life
Do you believe you have the potential to make your life as a whole — or any area of your life — better? Most likely, all of us would answer with a resounding YES! Honestly, what makes us feel so alive and excited every day is knowing that there's more out there for us, right? Well, in this Live episode, I'm going to help you take inventory of many aspects of your day-to-day life and show how you can improve upon the ones you are least satisfied with! Get ready to follow along with my live audience!
As we all know, confidence is a major contributing factor to one's overall wellbeing — including happiness and leading a more fulfilled life. That is why Courageous Confidence Club is one of my very few courses that is ALWAYS open! If you're feeling you need a little boost in the confidence department, SIGN UP FOR CCC TODAY!
Other podcast features:
Let me know your thoughts in the comments! It means a ton!
Love you.
Chalene