How to Find Your Purpose & Passion In Life
Are you wondering how to find your purpose or passion in life? Whether you think you've found your purpose, you found your passion, but it doesn't seem big enough, or you feel like you don't have enough experience to pursue whatever that thing might be, guess what? We make way too big of a deal about finding our purpose. So in this episode, episode 300 of The Chalene Show, I share what we must focus on instead and presents 4 simple questions to ask yourself to figure out if you're on the right path.
The idea that we are all born with just ONE purpose is so limiting. No wonder people freak out about finding their purpose or selecting a career path. There's so much pressure! The good news is, we have more than one, and it is ever-changing. My own purpose has changed several times over the course of my life – from helping people with exercise, to building their business, and now to improving their nutrition and health. So take a deep breath, and answer the 4 simple questions presented to you in this episode.
What You Will Learn In This Podcast on Finding Your Purpose:
Why we make way too big of a deal about a need to find your purpose. (2:45)

The first question you should ask yourself: "Do I have a purpose?" (4:25)

How we embrace our purpose by serving others. (4:45)

Question #2: "What would you personally defend?" (5:14)

How our purpose changes and evolves over time and why. (6:00)

How your purpose does not have to relate to your career. (7:20)

How to use our own personal experiences to help others and continually pursue new purposes. (9:00)

How you can use challenges to give your life significance. (12:30)

Why your purpose can mean just helping one person versus helping a million people. (13:00)

A way in which you can figure out how to help others. (13:30)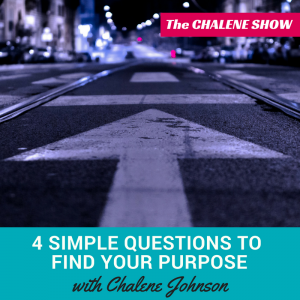 I hope you find this episode helpful. If you actually go through this process and answer the questions, you know that your life has significance and how you're actually already living a life with purpose. We all have plenty of challenges ahead of us. I hope you will look at each one as an opportunity to have a life with even greater significance. I'd love to hear your thoughts on this episode. Please leave me your comments below, leave me a Speak Pipe message below or leave a review. Thank you for being here. YOU are the bomb dot com.
Important Links from the Show:
Here's The System I Use Every Day to be More Organized & Crazy Productive:
www.smartlifepushjournal.com
The Chalene Show is brought to you by:
www.131movement.com
Stop dieting & start living! 
Click here to subscribe to The Chalene Show.
If you liked this episode, check out "What Should You Do Next In Your Life."
Leave me a message about this episode!
To submit requests for The Chalene Show: thechaleneshow@chalenejohnson.com
To submit requests for Build Your Tribe: buildyourtribe@chalenejohnson.com