According to Instagram itself, Stories are the most watched of all the things you can post to IG. So if you are a business owner or an influencer on Instagram, you need to up your Instagram Stories game! Today, Brock and I give you 6 tips to help you do just that!
You'll find out:
How often you should be posting per day on Stories
What is recency
Why you need a variety of styles of posts (on Stories) and what that means
What is breaking up your Story
How to increase your engagement on Stories
Which features helps most with engagement on Stories
Why we suggest to answer your own questions
What are number slides and why they increase viewership rates
What is pointing to your Stories
How to create curiosity for Stories in your Feed posts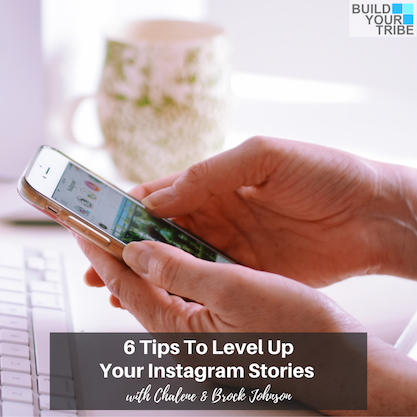 Important Links from the Show
Click here to subscribe to Build Your Tribe!
Click here to rate and review!
Make sure you scroll down, tap to rate with 5 stars, and then select, "Write a Review." Then be sure to DM me with a screenshot and I'll do my best to read your review on the air! 
Check out InstaClubHub! The ONLY All-In-One Instagram Resource Community Designed To… Grow Your Following and Reach More Customers on Instagram™ (All in Just Five Minutes a Day!)
If you liked this episode, check out Episode #547 – Understanding the Instagram Algorithm for Maximum Growth
Leave me a message about this episode!
To submit requests for The Chalene Show: thechaleneshow@chalenejohnson.com
To submit requests for Build Your Tribe: buildyourtribe@chalenejohnson.com