My Interview With Captain Sandy – Part 1
This is part 1 of a 2 part episode. In both parts, I interview Captain Sandy, whom you may know from the Bravo show Below Deck. Captain Sandy, simply stated, is a badass. Please note, this is not an episode about reality TV. It's an episode about believing in and confiding in someone. If you can, grab a pen and a paper, because Captain Sandy is about to drop some serious knowledge.
Honestly and truly… there's only so much I can say about this interview here in the show notes. You really have to listen for the full impact of Sandy's words. This woman… she radiates with confidence and you can feel it just by hearing her voice. Not only is she so calming and confident, but she is hilarious too. Listen in, you really HAVE to.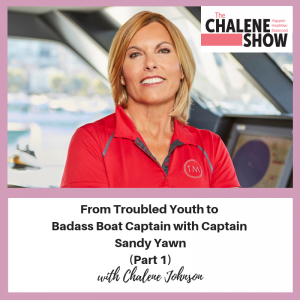 Important Links from the Show
Find Captain Sandy on social media
Instagram: Instagram.com/CaptainSandraYawn
Website: http://CaptainSandyYawn.com
This episode is sponsored Sleep number visit www.sleepnumber.com/CHALENE  
Want to have the best sleep of your life?
Get the mattress my husband and I have in our bedroom, today!  Go to sleepnumber.com/chalene  and find a Sleep Number store near you!
Link to Pre-Order Chalene's New Book: GO HERE
If you liked this interview, be sure to tune in to Part 2 –  Calm in the Eye of The Storm with Captain Sandy Yawn of Bravo Below Deck
Leave me a message about this episode!
To submit requests for The Chalene Show: thechaleneshow@chalenejohnson.com