For All My Introverts Out There…
This CarSmart episode is all about boosting your confidence! Are you slightly introverted or do you perhaps lack confidence in social settings? If so, first things first… you aren't alone! But you may want to tune in to this one. I want to help you identify the areas in your life where you want to have improved confidence. Then I'll provide you with some guidance in thinking of ways to build experience in those areas so that confidence can follow and flourish.
I just finished recording the audio book for my NEW book, The 131 Method (click HERE to pre-order). When I first walked into the studio to record, I was incredibly nervous. By the last day of recording, however, I was having the time of my life. I recorded for like 8 hours straight lol! I share this with you because I want you to know there are times every once in a while where my confidence is not as strong as you may think. That we ALL go through little battles with our ego and our conscience. Though, the only way to build upon confidence in an area where it is lacking, is to build experience in that area. After I got the hang of things with recording my audiobook, I grew more confident. See! Listen in and I will explain this much further for you and give you some pointers that have helped me when I really needed a confidence boost!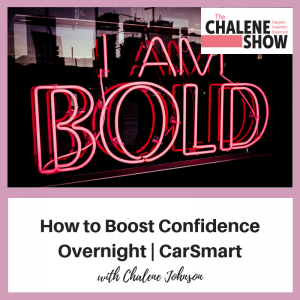 Hope this episode served you at a time in which you needed to hear it. Remember, you've got to get yourself out there and push through the not so very comfortable phase, and then that area in which you are lacking confidence will become second nature to you! You got it boo. As always, you're the BOMB.com.
Important Links from the Show
Subscribe to The Chalene Show 
If you Liked this Episode, Check out Episode 372 – Overcome The Scarcity Mindset and Limiting Beliefs
Pre-Order the 131 Method Book: Go Here
Leave me a message about this episode!
To submit requests for The Chalene Show: thechaleneshow@chalenejohnson.com