Today, I'm interviewing Dr. Kay on all things facial cosmetic surgery! This MUST-LISTEN episode was inspired by topics YOU raised, like: the stigmas around changing / enhancing one's appearance, finding the right MD, which procedure to start with, how safe are injectables — and everything in between!
You'll find out…
What is a "good filler"

The problem with certain celebrities past 50 years old and the image they're presenting on social media

The best age to start botox (and the answer may surprise you)

How many doses of botox have sold

Less popular uses of Botox

How effective is Botox for migraines

What you should be looking for when seeking the right person to do injectables

Does it make a difference whether your specialist is male or female

Is it possible to change bone

Different kinds of fillers and what they're used for

How does Dr. Kay measure objectivity re: patient's request for Botox (when they might not need it)

Can you use fillers to sculpt parts of the body

What procedure has there been a major increase in people asking for

When you might consider surgery vs Botox

How safe are other injectables (aside from Botox)

The main purpose of filler (it's not what you think)

What makes a patient most comfortable when they're in Dr. Kay's chair

Why are so many women (and men, too) paralyzed with looking older

Does Dr. Kay feel pressure to look a certain way

At what age should most people consider getting a facelift

What might happen to a young woman, in her early 20s, who starts doing implants (e.g., cheek, nose, etc.)

Which facial feature should the majority start with (when attempting fillers for the first time)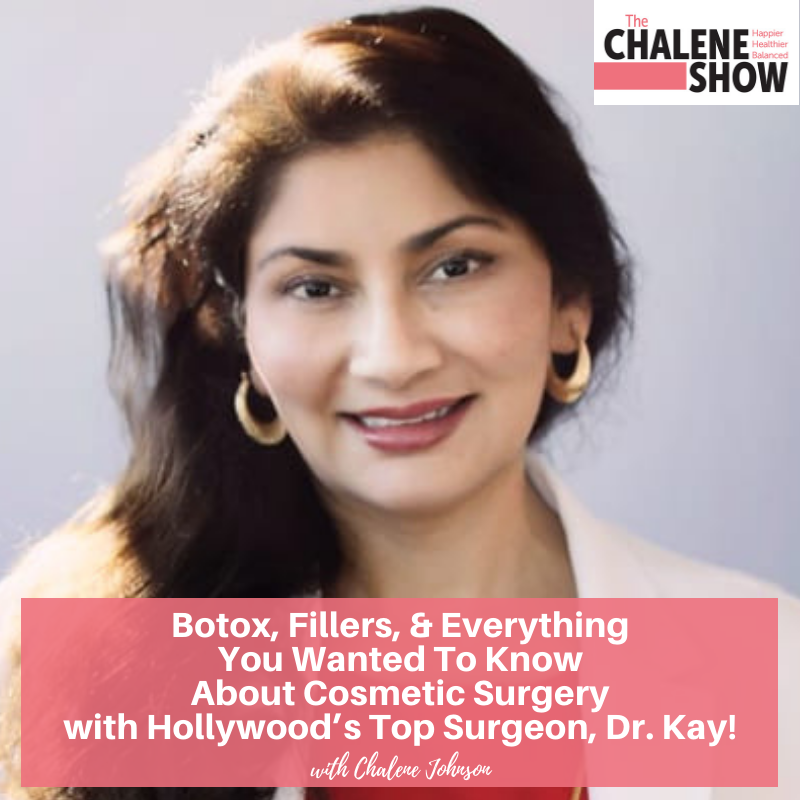 Links from today's episode:
Click here to subscribe to The Chalene Show!
Use the code CHALENE for 20% off skincare at beautybydrkay.com/shop
Dr. Kay's Podcast – Beauty Bytes with Dr. Kay: Secrets of a Plastic Surgeon
If you liked this episode, check out Episode #453 – Top Secret Beauty Secrets! Like, Face Shaving (For Girls Only)
Leave me a message about this episode!
To submit requests for The Chalene Show: thechaleneshow@chalenejohnson.com
To submit requests for Build Your Tribe: buildyourtribe@chalenejohnson.com