The Manifesto of Business Rules for Success & Balance in Business
Listen in to hear me interview Todd White of Dry Farm Wines. Todd shares how he has grown his subscription business both quickly and successfully. He explains how daily meditation has positively impacted his business growth and the way he views his life in general. He shares about his manifesto of 18 business rules that all of his businesses have had to meet in order to be successful.
In this special interview, not only will you gain some insight into the topic of wine and health, but you'll learn how Todd's wine subscription business hit it out of the park. He truly is a man full of wisdom and his priorities are clearly aligned. I had the privilege of interviewing him and I know there is so much you're going to learn from him in this episode. So if you haven't already, press play!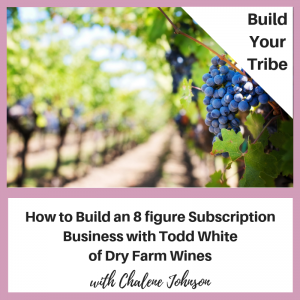 Important Links from the Show
Subscribe to Build Your Tribe
If you liked this Episode, Listen to my Interview with Todd White on The Chalene Show – Episode 374 – Don't Drink Another Glass of Wine Until You Listen to My Interview with Expert Todd White
Check out my favorite natural, organic, and sugar-free wine! Dry Farm Wines has no added fillers or colors. It's literally the best wine you can drink and the ONLY wine my husband and I drink: GO HERE
Listen to Steve Jobs Stanford Commencement Speech: GO HERE
Take advantage of my FREE Mindset coaching by pre-ordering my new book on Amazon or Barnes & Noble! Once you place your order… copy your Amazon or B&N order number, go to 131methodbook.com and share your order number!
Leave me a message about this episode!
To submit requests for Build Your Tribe: buildyourtribe@chalenejohnson.com