Create a System, Get Help With Building Your Brand, and Make More Money
Are you working day and night on business growth, yet you don't feel like it's going anywhere? It can be quite draining to work towards generating revenue, especially if you are trying to run your business all on your own. Your goal should always be to reach more people and make more money, but you should have fun doing that. It's time to break out of the old school business mindset. Zenovia Andrews, business owner of MaxOut Group, is going to guide you into creating effective systems for your business and provide you with the tools to seek out help in building your brand so you can make more money.
Zenovia is the bomb. As an always-learning entrepreneur, I have much to thank her for. She has taught me so much in regards to optimizing what I DO have going for me in my business AND what I need to seek out help with. As a result, I've been able to create the perfect system and strategies for the 131 Method and my team members.  I think you guys will find this episode to restore some of your confidence in yourself, as well as your role in your business. Remember that your business and the passion that coincides with it is incredibly unique and that not all entrepreneurs will be successful in taking the same approach to achieve growth. However, it is SO frickin' important to be aware of when you are doing too much on your own… especially when your happiness is being sacrificed as a result. If that just screams your name, you need to listen in and hear what Zenovia has to say.
What You Will Learn In This Podcast on Business Growth:
There's a way to work on business growth without killing yourself. (0:40)

How to break out of the old school business mindset. (2:10)

The biggest mistake new or solo entrepreneurs make when it comes to taking their business to the next level (3:20)

Why trying to do everything for your business will get you nowhere.(4:45)

Why you need to develop an intentional visual system, and why you must invest in putting the right people into it. (5:10)

How to optimize what you already have. 

3 choices you must make when setting up systems to generate revenue. (6:00)

What is cold traffic? (8:20)

What you want to make sure of when hiring someone internally. (9:30)

The importance of inspecting what you expect. (9:50)

How to hire the right agency for business growth. (12:00)

How to shift your mindset to prepare you to work with an agency. (16:00)

How long it takes to see a transition in your brand. (19:40)

It isn't just about making money. You must know what your goals are when working with an agency. (20:20)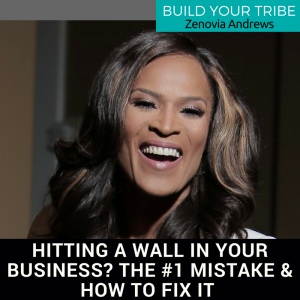 Once again, I found Zenovia Andrews and all that she teaches incredibly insightful! I hope you enjoyed this interview as much as I did. Can I ask you a favor? If you haven't already, will you write a review for the show? Not only is this a really nice thing you can do for me (and I'm so grateful), but it's something nice you can do for others, too. Your review helps other people find the show.
It's my goal to be brief, be bright, make it fun, then be done! So that concludes another episode of Build Your Tribe. See you next time!
Important Links from the Show on Business Growth and Taking Your Business to the Next Level:
Get Zenovia's free ebook: www.allsystemsgobook.com
For More Info on MaxOut Group:  www.maxoutgroup.com
Click here to subscribe to Build Your Tribe & leave a review of the show!
If you liked this episode, be sure to go listen to Episode #226 How to Rebrand Yourself or Transition Your Brand with Zenovia Andrews and Chalene. In that episode, they talk about how you can shift your mindset and lay out all of the pieces to take your brand and business to the next level.
Leave me a message about this episode!
To submit requests for Build Your Tribe: buildyourtribe@chalenejohnson.com