How to Change Your Beliefs & Get What You Want In Life:
Something bugging you? Are you trying to make something different happen, but you're stuck? It's time to change your beliefs. If you don't believe it's possible…guess what? You're right! But when you believe, it's more than possible. It's going to happen. Join me for this Car Smart episode with simple steps to change your beliefs and the things you must do if you want to make a change in any area – whether that's improving your relationship, losing weight, being a better golfer, growing your business, graduating with honors… You get the idea.
This podcast episode on how to change your beliefs is short and sweet, yet powerful! We all have things we want to accomplish or improve in life. If you're trying to make something different happen or improve some area of your life, you can't just keep doing what you're doing. You need to do something radically different.
And I hate to burst anyone's bubble, but you can't half a$$ it or decide to just try harder either. It doesn't work. What works is following the simple steps outlined in this episode: you must become more knowledgeable and change your beliefs about what's possible.
What You Will Learn In This Podcast with Simple Steps to Change Your Beliefs:
Why you can't keep doing what you're doing if you want a different result, as well as why simply deciding you will be more conscientious or "try harder" won't work either. (1:20)

An important step to change your beliefs: research. (6:00)

The effect the negative thoughts and beliefs of others have on your ability to change your beliefs. (6:45)

Why it's important to follow every single step and not miss one if you want success. (8:30)

How when you believe it's possible, and you follow the steps, it will happen. (9:37)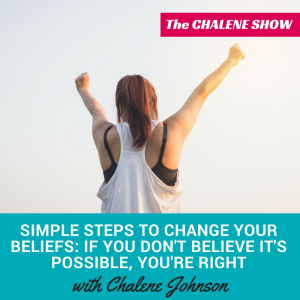 As always, thank you for tuning in to The Chalene Show! Don't forget to subscribe! When you do, your phone will automatically download the episodes when you're connected to wifi, and you'll avoid eating up your data.
In addition, I have exciting news! I'm coming to you! Yep – we're taking The Chalene Show on the road! We will be hitting up areas with the most subscribers (another reason to hit that subscribe button). Check out www.chalene.com/chaleneshowlive for details on our first stop!

Important Links from the Show:
Here's The System I Use Every Day to be More Organized & Crazy Productive:
www.smartlifepushjournal.com
The Chalene Show is brought to you by: www.131movement.com
Stop dieting & start living!
Click here to subscribe to The Chalene Show.
If you liked this episode, check out "4 Simple Questions to Find Your Purpose."
Join The Chalene Show LIVE: www.chalene.com/chaleneshowlive
Leave me a message about this episode!
To submit requests for The Chalene Show: thechaleneshow@chalenejohnson.com
To submit requests for Build Your Tribe: buildyourtribe@chalenejohnson.com