Today, Brock and Cierra — my son and daughter — take over the podcast and answer questions from members of the PodSquad. Shocker: I didn't listen to nor approve of their responses! This will be an episode to remember!
Some of the questions the kids field:
Their favorite family vacation
Which parent was the disciplinarian?
How are their individual wedding plans coming along?
Favorite memory of Bob
What does their future look like (if they had a crystal ball) 5 years from now?
What it was like growing up with a mom in the public eye
How Cierra's relationship with me has affected her relationship with her future in-laws
Do my kids listen to my podcast?
Something both Cierra and Brock, individually, were afraid to tell Bret and I
How has my surgery ordeal been for them
Best financial advice we gave them
Their favorite books/authors
What they feel like they've learned (from Bret and I) that they may carry over into their (future) marriages
What (negative) trait Brock feels he picked up from Bret
What family traditions they plan on bringing into their future
Did my kids have a rebellious phase?
Favorite thing about Bret and I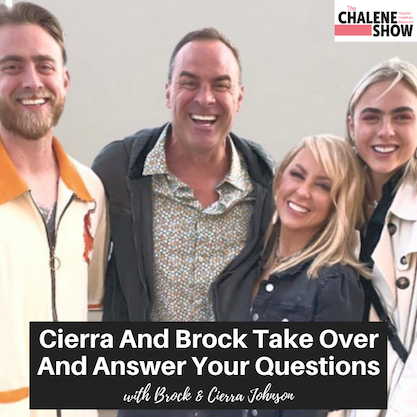 Important Links from the Show
Click here to subscribe to The Chalene Show!
Click here to rate and review!
Make sure you scroll down, tap to rate with 5 stars, and then select, "Write a Review." Then be sure to DM me with a screenshot and I'll do my best to read your review on the air! 
Follow Brock on Instagram @brock11johnson
Follow Cierra on Instagram @cierraoday
If you liked this episode, check out Episode #770 – Our Holiday Tradition 10 Envelope Challenge
Leave me a message about this episode!
To submit requests for The Chalene Show: thechaleneshow@chalenejohnson.com
To submit requests for Build Your Tribe: buildyourtribe@chalenejohnson.com