The most important thing we can do in business is to have contact with our customers. And while you've heard me speak about the importance of growing one's email list, it seems that — more and more — people are jaded with all things email. So, how does a business owner / entrepreneur stay ahead of the curve and find the newest (and best) platform for reaching out to customers? Well, in this episode, I provide a possible solution with… SMS marketing! In other words, texting! I'll share my thoughts on this increasingly popular strategy, how I've employed it within my business, why it might be right for you, what you need to know about the Community app, and so much more!
You'll find out:
Why there's a very high likelihood your emails won't get opened
Why we know we have to limit social media
The open rate text messages get
How I use SMS campaigns for our services and platforms
Why I use SMS marketing sparingly
Why I recently didn't want to hit up my email list / social media re: a new service
Why using a Swipe Up diminishes your reach on Stories
What I call a direct to interested consumer campaign
Why I want to use my work phone number solely for entrepreneurs
When it makes the most sense to use SMS marketing (and when it doesn't)
The difference between Google numbers and Community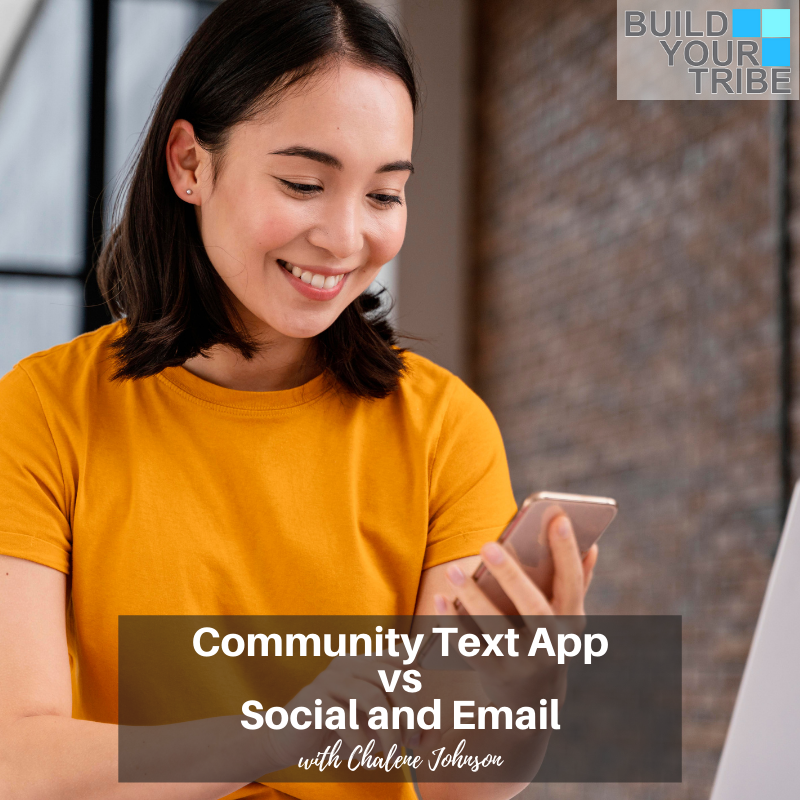 Important Links from the Show
Click here to subscribe to Build Your Tribe!
Click here to rate and review!
Make sure you scroll down, tap to rate with 5 stars, and then select, "Write a Review." Then be sure to DM me with a screenshot and I'll do my best to read your review on the air! 
Send me a text: 9495039873
If you liked this episode, check out Episode #409 – Setting up Your Email List
Leave me a message about this episode!
To submit requests for The Chalene Show: thechaleneshow@chalenejohnson.com
To submit requests for Build Your Tribe: buildyourtribe@chalenejohnson.com