Do you have a plan B? Most of us do. It's that thing you fall back on if whatever you're pursuing (your passion, your dream) doesn't pan out. In today's episode, my esteemed guest, Bo Eason — former NFL player (top pick), then an award-winning actor, and currently a renowned speaker / leadership coach — argues why you should throw your Plan B out the window and fully commit to what it is YOU want to do. In this life and career-changing episode, Mr. Eason will share strategies from his new book, "There's No Plan B For Your A-Game"!
You'll find out…
Statistics on the odds of being born

How we learn to create a successful story for ourselves (i.e., can we change our personal story?)

What is a declaration re: your mindset?

Why you should have a declaration over a goal

Why thinking about HOW to achieve your dreams is a recipe for failure

How the right path will force itself onto you when you're on the wrong path (i.e., course correction)

How we tap into listening to our intuition

How we know when to quit something altogether

Details on how Bo took that turn from pro footballer to pro actor (beginning in children's theater!)

Al Pacino's advice to Bo (and their extraordinary full circle moment)

The importance (and probability) of becoming the best at something

Why people are afraid to commit (to a singular thing)

Why we should look for and create obstacles in our life

What is Bo's 66-Day Challenge and why it was created (based on new research)?

Why you must build an environment around your A-game

Why most of us get distracted from our dreams and/or declaration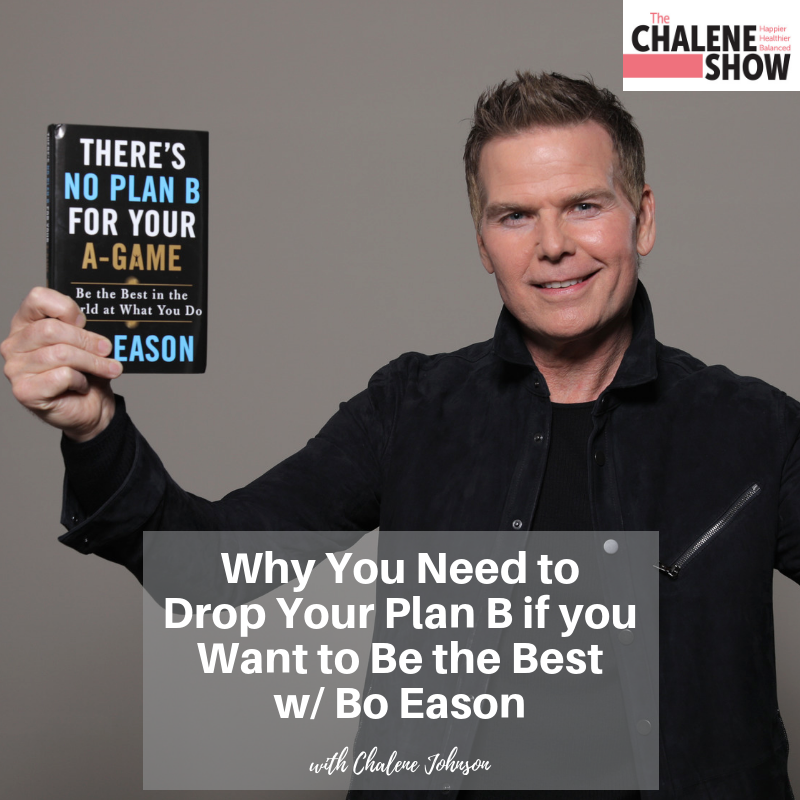 Important Links from the Show
Click here to subscribe to The Chalene Show!
Head to chalene.com/MyThing for: Discover Your Thing Questionnaire! 
Pre-Order Bo's new book, There's No Plan B For Your A-Game and get:
FULL Digital Version of There's No Plan B for Your A-Game
Access to the Private A-Listener Facebook Group
Your Own "A-Game" T-Shirt
Access to Be the Best in the World Mini-Course
There's No Plan B for Your A-Game Companion Action Book
Online Coach's Clinic: One Hour with Bo on How to Bring Your A-Game
If you liked this episode, check out Episode #319 – Dream Big! How to Stop Selling Yourself Short
Leave me a message about this episode!
To submit requests for The Chalene Show: thechaleneshow@chalenejohnson.com
To submit requests for Build Your Tribe: buildyourtribe@chalenejohnson.com