How to Get Your Family To Eat More Vegetables with This Simple Cooking Technique
How do you get your family (especially your kids) to eat more vegetables? In this bonus interview with Laura Klein, co-founder of Organic Authority and professionally trained chef, I get the scoop on an easy cooking technique that will have your loved ones asking for more veggies!
Today, you're in for a treat! This episode will make all the difference in the world! I recently interviewed Laura Klein of Organic Authority on the in's and out's of buying organic food (check it out: "Should You Really Buy Organic Foods? Myths, Tips & Tricks with Laura Klein of Organic Authority"). Given that she's a trained chef, I would have kicked myself if I didn't take the opportunity to ask for cooking tips. Luckily, she shared with me a simple cooking technique that will get your whole family to eat more vegetables.
What You Will Learn In This Podcast on Getting Your Family to Eat More Vegetables: 
Learn how roasting brings out richness and depth of flavor in vegetables. In addition, find out how mastering 1-3 simple cooking techniques can make all the difference. (2:00)

Why you should get outside your childhood palet, i.e. start re-educating your pallet and how. (2:30)

A simple roasting technique that's perfect for root vegetables and will get your family eating more vegetables. (3:00)

Laura's secret cooking technique to add texture to your veggies and why you shouldn't use tinfoil. (5:00)

How much garlic should you really use? (6:00)

How to know when your food is done cooking and if you're putting enough seasoning on your food. (7:00)

Laura's top tip for making crunchy veggies. (8:30)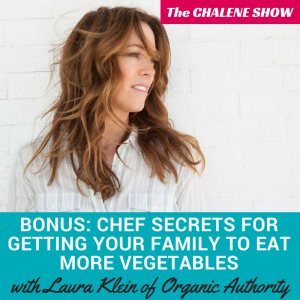 I have to say, I'm no cook. Luckily, I married an amazing chef. However, I did try out some of the techniques Laura shared with me, and I have to say that my kids are now eating more vegetables that I cook!
I can't wait to hear how these tips help you! Leave me your thoughts! I'd be honored if you did it in a 5 star review to help more people find the show!
As always, thank you for being here. You're amazing. You are the bomb dot com!
Important Links from the Show
The Chalene Show is brought to you by: www.131movement.com
Stop dieting & start living!
For $20 off ButcherBox + free bacon go to: www.butcherbox.com/chalene
Check out Organic Authority: www.organicauthority.com
Click here to subscribe to The Chalene Show.
If you liked this episode, check out "Should You Really Buy Organic Foods? Myths, Tips & Tricks with Laura Klein of Organic Authority."
Leave me a message about this episode!
To submit requests for The Chalene Show: thechaleneshow@chalenejohnson.com
To submit requests for Build Your Tribe: buildyourtribe@chalenejohnson.com