When is Quitting Considered a Failure?
Failure itself isn't failure unless you shouldn't quit. So, when is quitting a wise decision and when is quitting considered a failure? Everyone fails at something, and it can just be life trying to move us in another direction. In this episode, Chalene shares with you her fitness journey and how she turned all of her downfalls into a fabulous career.
[Hey! Chalene's new book is available on pre-order right now on Amazon. Save your order number and receive a free gift from Chalene.]
Failing in something doesn't mean you have failed entirely or that you will never be able to build yourself back up again. Remember that, always. I hope this episode served you at a time in which you needed to hear it. Be sure to leave me your feedback (send me a message by clicking down below) if you enjoyed tuning in… I'd love to hear from you!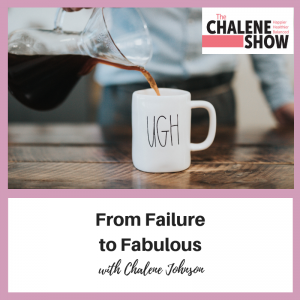 Important Links from the Show
Click here to subscribe to The Chalene Show.
Pre-Order The 131 Method Book on Amazon today!
If you liked this episode, check out Episode 350 – Solution Based Thinking
Leave me a message about this episode!
To submit requests for The Chalene Show: thechaleneshow@chalenejohnson.com