Do This One Thing and Find More Freedom
Freedom truly boosts happiness in all people. You can vouch for that I'm sure. When you're feeling trapped or powerless, doesn't it make it a thousand times harder to feel happy? We've all been there. Then there's the financial aspect. I mean, money definitely doesn't buy happiness… but it sure does provide a lot of freedom. Listen in to learn one simple thing you can do to hustle more, make more money, and free up your mind and your time.
Build Your Tribe is the other Chalene Johnson podcast (hopefully you've heard of it!). There, you will often hear from my son Brock Johnson or I as we discuss all things business and building your empire, your way. You'll often come across interviews with leading experts in all areas of business, marketing, making money, finding your purpose, and more! Do you want more freedom? Well, just by subscribing to Build Your Tribe, I promise it will help you to boost your freedom. Listen in to find out why subscribing is not only the key to finding success in your business but also the key to finding happiness and a free mind.
This Car Smart episode was a quick one, and I hope this brief message served you in some way today. Sometimes it's tricky to feel happy if you're stuck in a rut. Remember that you're not alone and you have so many free online resources available to you (like Build Your Tribe) to help you get unstuck ASAP. Finding freedom doesn't have to be pretty, and it definitely isn't easy. But it can be a learning journey for you and it CAN be done!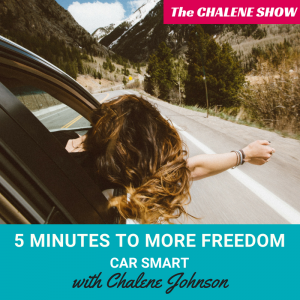 Important Links from the Show
Click here to subscribe to The Chalene Show.
Click here to subscribe to Build Your Tribe.
(Remember to subscribe to Build Your Tribe and leave a review letting me know that you listened to the 5 Minutes to More Freedom episode. This way, I can keep you accountable and maybe shout you out on the socials!)
Need a place to start with Build Your Tribe? If you liked this episode, I recommend you head over to Build Your Tribe (subscribe of course) and listen to Episode 229 – What to Do When Your Purpose or Passion Changes & How to Start.
Leave me a message about this episode!
To submit requests for The Chalene Show: thechaleneshow@chalenejohnson.com
To submit requests for Build Your Tribe: buildyourtribe@chalenejohnson.com