Today is all about building a fortress around your focus. Focus really boils down to 2 things: minimizing distractions and maximizing your creative energy.
First I want you to focus on illuminating distractions. Distractions cause your brain to decide which one to focus on. Even if you have a T.V. on in the background, your brain is processing what's going on that television whether you're consciously listening to it or not. And that takes away some brainpower. So I want you to protect your brain. Take the necessary steps to put your brain in the best possible environment for focus. That means turning your phone off, removing other sounds and noises, etc.
Your environment is a huge factor in your ability to focus. If you have children, my suggestion is to pick one very specific time either when the kids are with grandma or in the morning before they even wake up, when you can focus on what you want to focus on. If you have animals in your home, either separate yourself from them or wear noise-cancelling headphones to eliminate any noise they might make.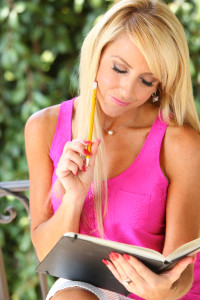 The bottom line is I want you to take the necessary steps to create the optimal environment for you to focus. If you are someone who gets a lot of communication through out the day from loved ones, my suggestion is to create a generic text message that you send out every morning that explains between what times you are going to be off the grid; and that you are thankful for their support. This allows your friends to understand why you aren't responding during those times, and also gives them the opportunity to support you.
Remember to get the outline for this show by texting the word LASER to 949) 565-4337
LEAVE CHALENE A VOICE MESSAGE >> CLICK HERE
LEAVE CHALENE A REVIEW >> CLICK HERE
Want more great tips and resources on improving balance, energy, organization, health fitness, relationships, focus, faith and happiness? Each episode of my podcast, The Chalene Show is designed to give you strategies and simple steps you can implement today to become a better, more balanced, happier version of yourself. LISTEN NOW!
Hey! Did you know Build Your Tribe has been resurrected? We had so many request to revive this show, so we brought it back. Listen Now >> https://itunes.apple.com/us/podcast/build-your-tribe-creating/id910990031?mt=2
Already a devoted listener to The Chalene Show? Leave a voice message about what topics you'd like to hear on the show or your feedback on a particular episode >> LEAVE A MESSAGE. Chalene would also love for you to leave a review on iTunes! It's kind of like her tip jar >> LEAVE A REVIEW.
Helpful Resources:
Chalene's Courageous Confidence Club: www.courageousconfidenceclub.com

This program gives you the tools you need to build confidence in every area of your life. You are supported by a group of people who are going through the program with you and are a sounding board for decisions and opportunities. This program will get you unstuck from your current situation and will teach you the steps needed to get your life in the direction you want!
For help with goal setting and determining your life's priorities, check out Chalene's 30 Day Push Program: www.30daypush.com
For health and fitness advice from Chalene, head to www.cj7day.com to download her FREE program with complementary workout videos!
Connect with Chalene:
Chalene on Facebook: www.facebook.com/chalene
Chalene on Periscope: follow @chalenejohnson >> You can catch my Periscope replays at www.katch.me/chalenejohnson
Chalene on Instagram: www.instagram.com/chalenejohnson
Chalene on Pinterest: www.pinterest.com/chalenejohnson
Chalene on Twitter: www.twitter.com/chalenejohnson
Chalene on Youtube: www.youtube.com/chalenejohnson
Some of my Instagram Accounts:
www.instagram.com/instagramimpact
www.instagram.com/homeworkouts_4u