Stay in the Know of the Instagram Algorithm Changes
Are you feeling frustrated and overwhelmed with Instagram? Do you feel like you're not getting any new followers or the same amount of likes you used to get? After collecting data for the past four months, I finally get to share with you what has changed in the Instagram algorithms. You'll learn five things you can start doing differently TODAY that will help you grow your Instagram account's reach and engagement.
A little hint… to grow your Instagram account, the number of likes you get no longer matters! At all. And if you tune in, you'll learn exactly why and what is more important to worry about.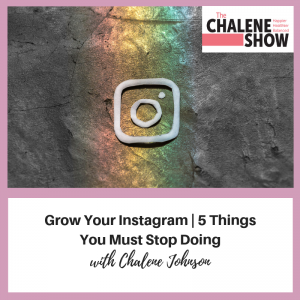 What You Will Learn In This Podcast About Growing Your Instagram Account:
Likes are irrelevant. (6:00)

5 things that have changed with the algorithm. (7:00)

Why you probably feel so overwhelmed with Instagram. (8:10)

How to create savable posts. (9:10)

Why you shouldn't ignore the carousel posts and how to use them. (9:50)

Why people look at IG Stories first before posts. (12:00)

Posting within regular intervals. (13:15)

How to caption your stories on Instagram. (14:20)

And more!
I've been working on this Instagram report for so long and am so excited to finally share my discoveries with you guys. So, I really hope you are able to benefit and grow your Instagram from this data I have collected. I know that concluding doing these five things have personally helped me tremendously. Give it a try and circle back to let me know if it helped you!
Important Links from the Show
Click here to subscribe to The Chalene Show.
To gain access to Chalene's free Instagram report and to be reminded when Part 2 releases, click here.
Text IGHELP to 55222 to receive a link to the PDF version of this free Instagram Report.
If you liked this episode, check out Episode 330 – Is Social Media Making You Unhappy?
Leave me a message about this episode!
To submit requests for The Chalene Show: thechaleneshow@chalenejohnson.com