Tips for Natural Healing & How to Look Into Alternative Therapies for Treatment
Healing naturally – what are the options for healing from an injury or disease? Most people resort to surgery or medicine without ever looking into natural healing treatments like HBOT (hyperbaric oxygen therapy), infrared saunas, acupuncture, dry needling, cupping, vibration therapy or supplements. Is it possible to heal naturally? In this CarSmart Episode, I share alternative therapies I'm undergoing in an attempt to heal my hamstring injury naturally, without surgery. Whether you have an injury or a disease or not, the information in this episode applies as 80% of us are estimated to suffer from leaky gut and therefore have some type of inflammation.
For studies, research and a more in-depth explanation of the natural healing treatments I discuss in this episode, click here.
I have to be honest and say that I was a little reluctant to record this episode because many of the things I'm discussing aren't covered by health insurance. But the reason I'm sharing it anyways is because I truly believe this is how we make change. In the U.S., we provide "sick care," not "health care." If we're loud enough, if we demand better options and treatment, if we're informed enough, we'll make changes to the health care system.
With that said, nothing discussed in this episode is meant to replace the advice of care of your doctor. I'm simply sharing my experience, my opinions, and the treatment I am undergoing to show that there are alternative options.
What You Will Learn In This Podcast on Healing Naturally: 
Why natural healing and gut health is relevant to almost everyone – it's estimated that 80% of us suffer from leaky gut, which results in inflammation, which often makes us more prone to injury and disease. (1:15)

The importance of cellular health in getting healthy from the inside out. (7:25)

The reasons why natural therapies are often not covered by insurance. (7:50)

How my doctor and I put together a plan to "bio-hack" the recovery process and how we did it. (9:50)

An overview of natural healing therapies I am currently using under the supervision of a doctor.  (10:15)

HBOT (Hyperbaric Oxygen Therapy) – using pure oxygen and a pressurized environment to force oxygen into all of the tissues in the body and speed up the healing process. (11:00)

The book I mentioned on the effects of HBOT

"The Oxygen Revolution" 

Human Growth Hormone – I'm taking a very low dose supplement to improve the rate at which my muscles repair themselves. Another way to improve this is by fasting in some cases where it's ok to put extra stress on the body. (16:00)

The role testosterone plays in muscle tissue repair, and also the importance of estrogen. (17:50)

MTHFR gene mutation and what that means to healing naturally. (19:00)

The importance of other natural techniques like infrared saunas, acupuncture, dry needling, cupping, physical therapy, sleep and meditation. (23:00)

What is a glutathione IV drip, how can it help remove free radicals, and what to be cautious of when it comes to IV supplementation. (25:40)

The downside of healing naturally. (30:00)
Again, for studies, research and a more in-depth explanation of the natural healing treatments I discuss in this episode, click here.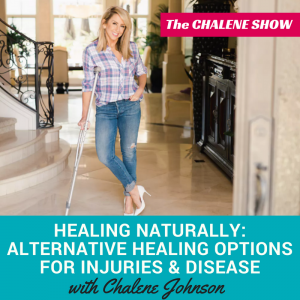 I share this story to show that not all healing has to come in the form of medicine. We don't always have to get a prescription. There are many things our bodies can do naturally. They are incredible vessels! I hope you enjoyed this episode and found it helpful! Leave me a voice note below with your thoughts. I love hearing from you!
Important Links from the Show:
The Chalene Show is brought to you by: www.131movement.com
Stop dieting & start living!
For more in-depth information on this episode, as well as my healing journey, studies,  and research referenced, visit: https://blog.131method.com/healing-remedies/
Click here to subscribe to The Chalene Show.
If you liked this episode, check out "How to Deal with a Physical Injury or Setback."
Leave me a message about this episode!
To submit requests for The Chalene Show: thechaleneshow@chalenejohnson.com
To submit requests for Build Your Tribe: buildyourtribe@chalenejohnson.com