Today's episode is from a Live Webinar with Bret and I. And it's absolutely essential listening if you're an entrepreneur, business owner (of any kind), network marketer, or independent contractor. In our usual candid and no-nonsense way, we offer specific strategies of how to pivot and what you should be thinking about in our current climate — from worst-case scenarios to the many possibilities that exist. Whether your business is still up and running, partially running or had to close the doors for now… this show is a must listen! That is, if you're looking to stand out in these unprecedented times.
You'll find out…
Newest predictions for unemployment rates

Our history with businesses we've owned and how we relate to uncertain times

How Bret is currently reaching out to people (in our personal life)

How to reverse engineer the domino effect that may be related to your industry

How Bret and I decided to strategize our businesses during this time

What advertisers who sponsor podcasts are currently doing

The importance of thinking how consumers might react to different businesses right now and how it effects planning your own course of action

The question I pose to you — if you're in a service provider biz — to help you strategize for the future in a very real way

Why it's imperative to consider how to solve problems in this current climate

The question someone just asked me which put me on the spot

The super inspiring (and instructive) email I just received from a business owner / MIA student

My advice for restaurants

Questions business owners need to ask themselves right now

What Bret and I are doing for our current MIA students that is very specific to this uncertain time

Why and how MIA is changing — for the first time ever — during this pandemic

What the MIA Playbook is, what it covers, and why it's the #1 fave resource of students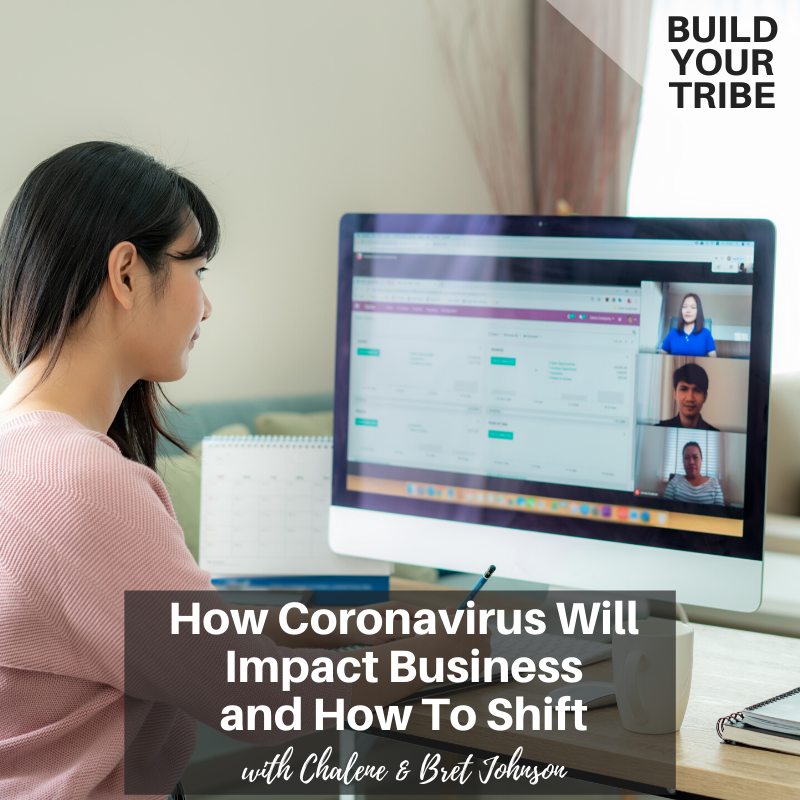 Important Links from the Show
Click here to subscribe to Build Your Tribe!
Sign up for Marketing Impact Academy at a massively discounted rate! chalene.com/miaprivate
Watch the past Webinars and sign up for any possible future webinars at Chalene.com/fix
Not sure what your thing is? Go to Chalene.com/MyThing
If you liked this episode, check out Episode #382 – Your Business Turned Upside Down…Now What?
Leave me a message about this episode!
To submit requests for The Chalene Show: thechaleneshow@chalenejohnson.com
To submit requests for Build Your Tribe: buildyourtribe@chalenejohnson.com