My guest, Jill Stanton, and I share mind-blowing information around the subject of launching your thing — whether it's a course, a membership, a coaching program or whatever it is you're trying to get off the ground! With her non-traditional tips, Jill will teach you everything you need to know about Pop-ups, Challenge Groups and Bootcamps. If you're looking to launch your thing or even have the slightest curiosity about it, then this episode is a CAN'T-MISS! 
You'll find out:
What is a Pop Up Group, exactly

The intention of joining a Pop Up

Why people struggle in creating a course

What is a 10 Percentage

Why your Pop Up needs to serve your prospective customer's main objection

What is the Pop Up Group Accelerator

The price point range that works best for a Pop Up

The advantages and disadvantages for offering a free workshop / challenge inside a Pop Up group

How one fills up their Pop Up when they have no following

How far out (in time) does one start promoting their Pop Up

How Pop Ups differ from Webinars

Why you want to be teaching the WHAT and the WHY, but not the HOW

When you make your pitch inside your Pop Up

How much it costs Jill to acquire a new customer (i.e., average customer value)

The biggest win around paid Pop Ups

How long your cart should be open

Why it's not in your best interest to give people extra time to decide on something

How much time you give people to enter the group (before you close it)

Different types of bonuses to offer (new) members of your group

Bonuses that might prove a deterrent to prospective students / members

The difference between internal and external objections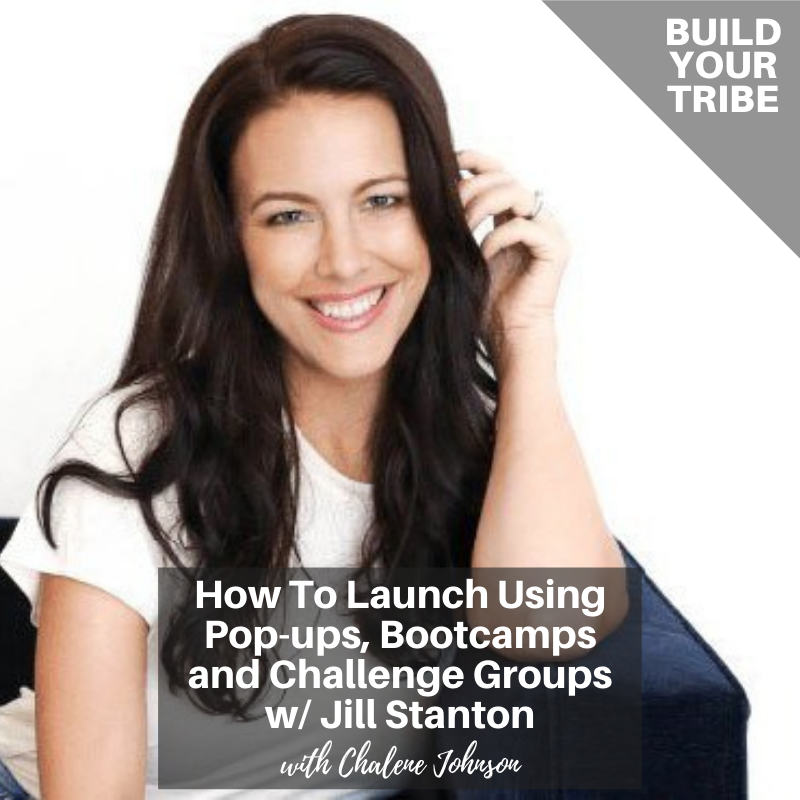 Important Links from the Show
Click here to subscribe to Build Your Tribe!
Click here to rate and review!
Make sure you scroll down, tap to rate with 5 stars, and then select, "Write a Review." Then be sure to DM me with a screenshot and I'll do my best to read your review on the air! 
Join Jill's next Bootcamp by going to chalene.com/Jill and use the Code CHALENE20 to get 20% Off!! 
Subscribe to Jill's Podcast, Screw the Nine to Five
Learn more About Jill at, screwtheninetofive.com
Follow Jill on Instagram and Facebook 
If you liked this episode, check out Episode #405 – How to Quit Your 9 to 5 and Still Pay off All Your Debt with Lindsay Kalsow
Leave me a message about this episode!
To submit requests for The Chalene Show: thechaleneshow@chalenejohnson.com
To submit requests for Build Your Tribe: buildyourtribe@chalenejohnson.com