Top Tips & Strategies to Be On Time
Part 2 with tips & strategies on how to stop being late or get someone else to be on time. In Part 1, we understood pain points of both late and timely people, how our brains comprehend time, challenges, the importance of timeliness, and the fact that it's not that late people are trying to be rude or challenge authority; their brain, skills and personality type simply differ. Now, let's build on what we learned with strategies to help the person who is always late, plus coping techniques for people who are on time and struggle in dealing with late people. Even if you can't get your tardy loves one to listen, you'll learn tips to get them to show up on time more often.


Hopefully, you've had a chance to listen to Part 1 of this episode. It will truly help you make a mindset shift whether you're a late person or dealing with a late person. While it's a little tough love, it will help you understand how your brain works.
Now, in this episode, we'll dive deeper into strategies to help you arrive on time or get someone else to be on time.
What You Will Learn In This Podcast on How to be on Time: 
How to eliminate the need to estimate time. Since late people comprehend time differently, there are techniques you can put in place to help them manage time versus estimate it. (5:00)

How to decrease the likelihood that someone will be late due to social media use. (6:00)

A list exercise that can help both the latecomer and the one time person. (7:40)

A strategy for reverse engineering appointments, so that you're never late. (12:30)

What to do when you or a loved one has a difficult time estimating drive time. (15:45)

What to do if you or someone else is late because you think can get "one more thing" done before you leave. (19:00)

How to deal with the people you care about that hurt you by being late when they know it's important to you. (21:20)

The good news: we have the ability to change! (23:00)

The importance of an honest, open conversation about timeliness or the lack thereof. (23:50)

How mantras can help you stay on task. (25:45)

Example Mantras:

Not right now

You don't have time for this right now.

Write it down, and do it later.

Stay focused.

Be on time.

Is this the best use of my time?

Is this what I should be doing right now?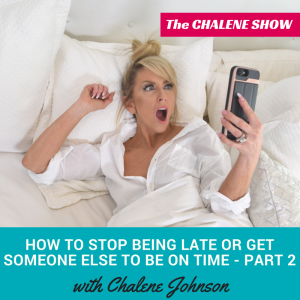 I've included some links to helpful tools as well as a video on how I use the SmartLife PUSH Journal to stay on task in these notes. I hope you find them (and this episode series) helpful!
I've truly loved the responses I'm getting from you on both sides of this. And I'd so LOVE to hear more from you! Your reviews and messages are truly so appreciated!
Thank you for being here. Whether you're a latecomer or on time, I just want you to know that I love you, and YOU are the bomb dot com.
Important Links from the Show
Part 1 of this Episode: How To Stop Being Late or Get Someone Else To Be On Time (Part 1)
Here's The System I Use Every Day to be More Organized & Crazy Productive: www.smartlifepushjournal.com
The Chalene Show is brought to you by:www.131movement.com
Stop dieting & start living! 
Clocks to Use Around the House:
Small traditional clock
Digital clock
Click here to subscribe to The Chalene Show.
Leave me a message about this episode!
To submit requests for The Chalene Show: thechaleneshow@chalenejohnson.com
To submit requests for Build Your Tribe: buildyourtribe@chalenejohnson.com