Today, I talk to expert Allyson Byrd on all things speaking and selling from the stage! We'll cover topics ranging from getting in alignment with your message, overcoming fear, and learning how to truly captivate your audience! You'll also learn great tactics for selling something you believe in when in front of a large group of people. Bottom line: If you've ever had the desire to share your message and serve your audience as a speaker —  whether you're a seasoned pro or just getting started — you need to hear this interview!
We didn't come in this world to fit, we came in this world to add. ~Allyson Byrd
You'll find out…
How Allyson's method of allowing people to find her has worked in her favor

Allyson's personal story of how she learned that one can be gifted and powerful and yet, also, misaligned.

What are some of the telltale signs of being misaligned?

When Allyson realized she was serving the wrong people

Why not all money is good money

Was Allyson always a natural public speaker?

Does everyone have it in them to pursue public speaking?

How has Allyson been able to take her skill and use it to serve people in a way that allows her to monetize public speaking?

How does one recover from the fear of bombing on stage for the first time?

Why you must vet the demographic you're speaking to

Why if the environment doesn't want your addition, you must count yourself as a subtraction

Why so many people struggle with the price of their product when selling from the stage

What is and how to know your UPP (Unique Pricing Position), USP (Unique Selling Position), UEP (Unique Enrolling Position)

Why Allyson is devoted to helping women, and, in particular, women of color

How does one know how to price themselves (or, perhaps, if they should offer their services for free)

Why it's a huge turn off when someone approaches a speaker and says, "I want to speak for you this year"

The distinction between public relations and reputation

The approach I took when I started my speaking career

Why it's important for women, especially women of color, to value their worth

Is it possible to move people to take action if you don't have the gift of communication?

Why, as a speaker, you don't have to be high on charisma, but, rather, high on the education for the method you're presenting to the world (with examples of well known speakers)

Does Allyson take on coaching clients?

Allyson's entry level investment for you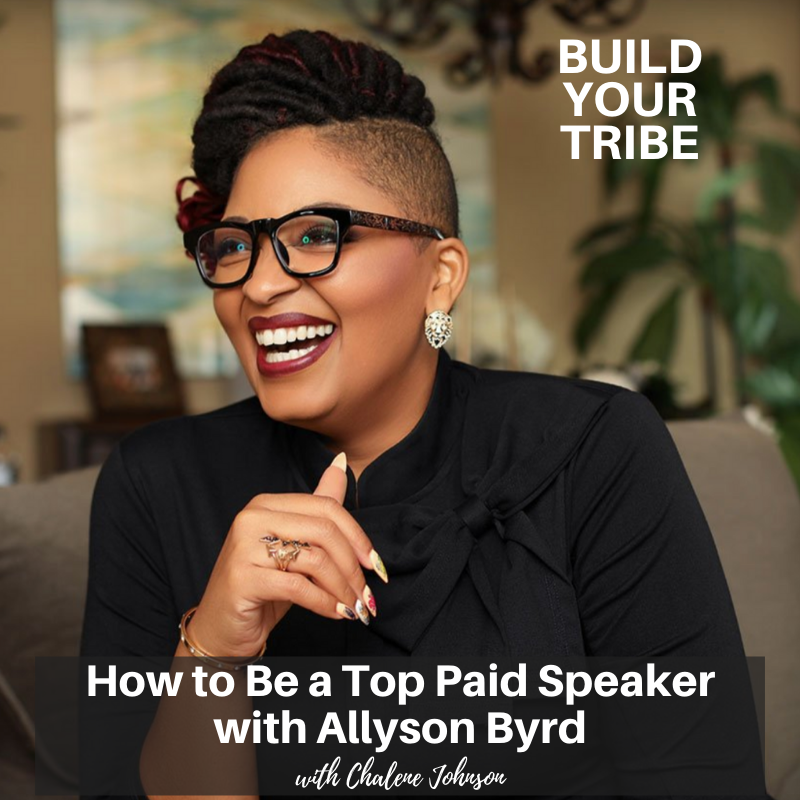 Important Links from the Show
Click here to subscribe to Build Your Tribe!
Get Allyson's Money Mindset Makeover at TheMMGuide.com
Check out the Book, To Sell Is Human
Check out the Book, Breaking the Habit of Being Yourself
If you liked this episode, check out Episode #282 – How we Select Speakers and the People we Mentor
Leave me a message about this episode!
To submit requests for The Chalene Show: thechaleneshow@chalenejohnson.com
To submit requests for Build Your Tribe: buildyourtribe@chalenejohnson.com