How to Face Your Fears and Go LIVE on Instagram
Instagram LIVE: What is it? Should you be using it? Brock Johnson highly encourages you to get your feet wet with going LIVE on Instagram. It's the bandwagon you want to jump on. Learn how going LIVE on Instagram will help you to create better relationships with your followers and boost your engagement. It's time to challenge yourself to get comfortable in front of the camera because going LIVE might just change your business for the better.
If you've been stuck and afraid to go Live for some time now, this episode will help you to beat that fear. In fact, once you listen to Brock's 8 tips for going Live on Instagram, you'll realize that there's no need to fear at all.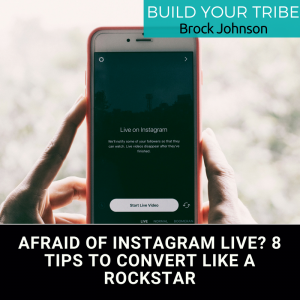 What You Will Learn In This Podcast About Instagram LIVE:
Why engagement rates on Live videos are so high. (2:00)

Brock talks about his first time going Live on Instagram. (2:50)

Brock shares his 8 tips for going Live on Instagram. (4:18)

One big difference between Facebook Live and Instagram Live that you need to know about. (4:45)

Why you need to relax when going Live for the first time. (6:00)

How notifications work for going Live on Instagram. (7:50)

How to remove distractions on Instagram Live. (9:15)

Why you need to script a hook/attention grabber for your Instagram Live. (9:50)

How you can schedule a regular Live video on Instagram and why it will help you to build a better relationship with your followers. (10:35)
I hope this episode restores you with some confidence, and that you'll feel you have all the materials you need to go Live on Instagram. If you have any questions regarding Instagram Live, feel free to reach out on the socials or send us a message! (You can do so at the bottom of this page via SpeakPipe).
Important Links from the Show
You can find Brock Johnson on Instagram, Twitter, and SnapChat: @BrockJohnson11
Click here to subscribe to Build Your Tribe.
If you liked this episode, check out Episode 236 – How to Stop the Scroll with Better Instagram Posts with Brock Johnson.
Leave me a message about this episode!
To submit requests for Build Your Tribe: buildyourtribe@chalenejohnson.com