Instagram Pods: The 2018 Instagram Algorithm Hack
What's the deal with Instagram pods? Can they help you hack Instagram growth, and increase your reach and engagement? In today's episode, Brock shares an immediate and tangible way to increase your Instagram growth, reach and engagement using Instagram pods. What are Instagram pods? Brock breaks it down and shares how you can take your Instagram account to the next level by creating your own pod with Instagram direct message and Instagram group chat.
So what exactly are Instagram Pods? Essentially, it's a group of Instagrammers that come together to help one another grow their reach. Each member of the groups agrees to like and comment on other members' posts as soon as they post to help increase visibility in the Instagram feed, and boost engagement and reach.
Tune in to this episode of Build Your Tribe to learn all the ins and outs of Instagram pods: how they work, how to find people to join your Instagram pod, how to start and run your group, and best practices for success.
What You'll Learn in This Podcast on Instagram Pods:
How Instagram pods work and how many people you need in your group. (2:40)

The ultimate goal of your Instagram pod to get it running smoothly. (2:50)

How to find the right people for your group in order to make it successful. In addiiton, what criteria you should be considering when selecting members. (4:00)

Why you might not want to add your own friends to your Instagram pod. (6:10)

How to use hashtags to find the right people to join your group. (7:20)

What to do once you find the people you want to invite to your group and how to get started. (8:40)

How to manage your group using direct messages. (9:40)

The importance of insightful comments versus quick comments and emojis. (10:30)

How to successfully manage an Instagram pod and create an environment where everyone wins. (11:00)

Should you be in more than one Instagram pod? (12:40)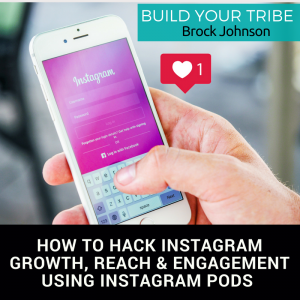 This episode is chalk full of great tips for taking your Instagram account to the next level with just this one simple strategy. By following these tips, you'll increase engagement and growth of your account, and everyone a part of the group will win!
If you enjoyed today's episode, Brock would be honored if you'd take a screenshot from your podcast app and share it to your Instagram story. Don't forget to tag him @brock11johnson, so he can find you! Also, please share what you found most helpful from this episode.
Your feedback is invaluable! Thanks for tuning into the show, leaving your reviews, and sharing with people you know who would benefit as well! We love you!
Important Links from the Show:
Here's The System I Use Every Day to be More Organized & Crazy Productive:
www.smartlifepushjournal.com
Get Brock's 7 Day Content Challenge: www.7daycc.com
Be sure to follow Brock on social media:
Instagram, Snapchat, Twitter:  Brock11Johnson
Click here to subscribe to Build Your Tribe & leave a review of the show.
Leave me a message about this episode!
To submit requests for The Chalene Show: thechaleneshow@chalenejohnson.com
To submit requests for Build Your Tribe: buildyourtribe@chalenejohnson.com