Simple Action Steps to Increase Instagram Reach
Increase your Instagram reach and engagement with these for tips from Brock Johnson. In this episode, he covers 4 steps to take immediately after posting to Instagram (or Facebook). This will increase the visibility and life of your post. Additionally, you'll get more people interacting with you. What you do in the first few minutes after posting is crucial. These best practices will help you "save" your post and hack the 2018 Instagram algorithm.


The clock is ticking! As a result of the most recent Instagram algorithms, the amount of engagement and visibility your post gets boils down to what you do in the first couple of minutes after you post. It's all about timeliness, interest, and the relationship you have with the people who follow you. Therefore, if you want to increase your Instagram reach, follow the four steps covered in this episode.
What You Will Learn In This Podcast on Increasing Your Instagram Reach: 
The 3 things the 2018 Instagram algorithm prioritizes in determining your Instagram reach: timeliness, interest, and relationships. (1:45)

The 4 steps you must take immediately after posting to increase your Instagram reach. 

Have your hashtags ready, where to put your hashtags and why. (3:00)

Share your post to Instagram stories in this specific way. (4:50)

Interact with people who leave comments immediately. (8:30)

Talk about your post on your story. (9:30)

Incentivize quick comments from your followers with rewards, giveaways and shoutouts. (10:20)

Use Instagram pods to increase Instagram reach. (11:55)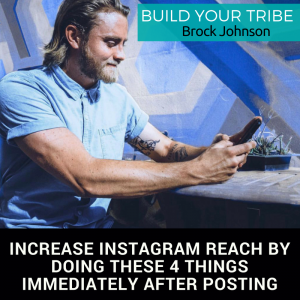 I hope you enjoyed this quick yet effective Build Your Tribe episode on increasing your Instagram reach! If you enjoyed this episode and want to know more about Instagram Pods, check out Brock's recent episode "How to Hack Instagram Growth Reach and Engagement using Instagram Pods."
We'd so greatly appreciate your feedback and comments on what you liked most about this episode. And if you leave them in a 5 star review, you get bonus points! Sharing is caring! Thank you as always for tuning into the show!
Important Links from the Show
This Show is brought to you by: www.marketingimpactacademy.com
Make a difference & make money doing it…Without it ever feeling like work.
Here's The System I Use Every Day to be More Organized & Crazy Productive: www.smartlifepushjournal.com
Get Brock's 7 Day Content Challenge: www.7daycc.com
Be sure to follow Brock on social media:
Instagram, Snapchat, Twitter:  Brock11Johnson

Click here to subscribe to Build Your Tribe.
If you liked this episode, check out "How to Hack Instagram Growth Reach and Engagement using Instagram Pods."
Leave me a message about this episode!
To submit requests for The Chalene Show: thechaleneshow@chalenejohnson.com
To submit requests for Build Your Tribe: buildyourtribe@chalenejohnson.com