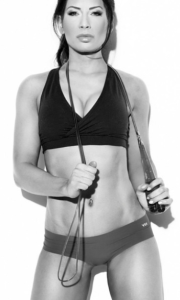 Despite America's calorie-counting obsession, many are still overweight. So, maybe, it's time to explore some new ideas. In part one of a two-part series, Dr. Sara Solomon talks with Chalene Johnson about intermittent fasting (IF) and flexible dieting. Dr. Solomon, a dentist and former professional fitness model, learned the hard way that an improper diet and exercise routine can cause serious damage to your body – she experienced metabolic damage and developed an eating disorder.
Due to her slower metabolism, she had to cut back on her training even further! A vicious and very dangerous cycle.
Since then, Dr. Solomon has helped thousands of men and women cut back on exercise, increase their food intake, and master their metabolism. She's an author and a lifestyle diet coach expert and, most importantly for Chalene Show fans – she loves research and shares it with us on today's episode.
Seriously, these two episodes are full of great information! Topics include: reverse dieting, eating for your macros, disordered eating, high protein diets, keytosis, carbloading, reducing body fat, fat loss, weight loss, HIIT training, and weight loss maintenance. They also talk all about macros, body image, and orthorexia.
Remember to download part two right now! >> PART 2
Connect with Dr. Sara Solomon >> Click Here
Hey! Did you know Build Your Tribe has been resurrected? We had so many request to revive this show, so we brought it back. Listen Now >> https://itunes.apple.com/us/podcast/build-your-tribe
Already a devoted listener to The Chalene Show? Leave me a voice message about what topics you'd like to hear on the show or your feedback on a particular episode >> LEAVE A MESSAGE. I would also love for you to leave me a review on iTunes! It's kind of like my tip jar >> LEAVE A REVIEW.
Helpful Resources:
Chalene's Courageous Confidence Club: www.courageousconfidenceclub.com
This program gives you the tools you need to build confidence in every area of your life. You are supported by a group of people who are going through the program with you and are a sounding board for decisions and opportunities. This program will get you unstuck from your current situation and will teach you the steps needed to get your life in the direction you want!
For help with goal setting and determining your life's priorities, check out Chalene's 30 Day Push Program: www.30daypush.com
For health and fitness advice from Chalene, head to www.cj7day.com to download her FREE program with complementary workout videos!
Connect with Chalene:
Chalene on Facebook: www.facebook.com/chalene
Chalene on Instagram: www.instagram.com/chalenejohnson
Chalene on Pinterest: www.pinterest.com/chalenejohnson
Chalene on Twitter: www.twitter.com/chalenejohnson