Bret's Tips to Keep a Relationship Intimate
Bret takes over this CarSmart episode of The Chalene Show and he brings to you Part 2 of Keeping Intimacy and Passion Alive. Bret shares his thoughts and tips for keeping their relationship intimate and special. It's definitely a grown-up conversation… so be sure to clear the room of your children before you press play! Part 1 was told by Chalene last week, so be sure to check it out first if you missed it!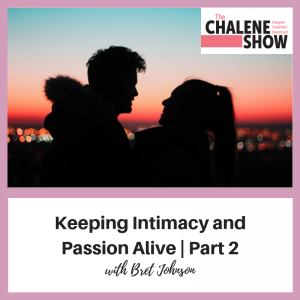 Important Links from the Show
Click here to subscribe to The Chalene Show.
If you liked this episode, check out Episode To enter Bret's contest (explained at 16:35)… Create a clever name for Tip #5. Head to Bret's Instagram and find the photo of both Bret and Chalene, then comment your name creation below: Instagram.com/bretjohnson11
If you missed Chalene's Part 1 of Keeping Intimacy and Passion Alive, Listen Now! 
Amazon Link to Pre-Order 131 Method Book:
https://www.amazon.com/131-Method-Personalized-Nutrition-Metabolism/dp/1401956785/ref=sr_1_1?ie=UTF8&qid=1546614196&sr=8-1&keywords=131+method
Here's The System I Use Every Day to be
More Organized & Crazy Productive:
The Chalene Show is brought to you by:
Stop dieting & start living! 
Leave me a message about this episode!
To submit requests for The Chalene Show: thechaleneshow@chalenejohnson.com