YouTube: Starting From Square One
Thinking you may want to launch a YouTube channel this year? Well, you're in luck. In this episode, Brock Johnson shares how he is building his YouTube channel from scratch and how he plans to gain traction to his videos and brand. He is not a YouTube professional but wants you to see this episode as an opportunity to follow one step behind him in the development of a brand new channel.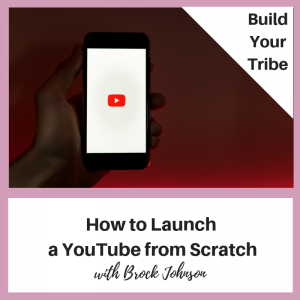 Important Links from the Show
Find Brock Johnson on YouTube & subscribe by searching Brock11Johnson.tv in your browser and clicking subscribe!
Find Brock on Instagram: @Brock11Johnson
Click here to subscribe to Build Your Tribe
If you liked this episode, check out Episode 253 – Sean Cannel | Update Your YouTube To Monetize
Amazon Link to Pre-Order Book:
https://www.amazon.com/131-Method-Personalized-Nutrition-Metabolism/dp/1401956785/ref=sr_1_1?ie=UTF8&qid=1546614196&sr=8-1&keywords=131+method
Here's The System I Use Every Day to be
More Organized & Crazy Productive:
Leave me a message about this episode!
To submit requests for Build Your Tribe: buildyourtribe@chalenejohnson.com