The Why Behind The 131 Method
It's a quite unsettling feeling to look back on the last two decades of your life, only to discover that you've been living a lie.
What I mean is… I've had an awakening. I've had to take a cold hard look at the actions, behaviors, messaging, and lack of responsibility I had taken for my health. Perhaps, even more-so, because I was — and still am — a health and fitness leader. 
It's shocking to me now to admit to the choices I made, the things I agreed to, and the advice I gave others.
There was no gun held to my head. I made all decisions voluntarily and many in an effort to battle my own imposter syndrome.
In this episode I share with you a look into what it was like, what I was thinking and how I got wrapped up into this lie and what I did to change it.
I also share with you one of the most personal chapters of my new book 131 Method.
You'll also find…
Different diets and fitness exercises I tried over the years
My unhealthy lifestyle choices to achieve the "perfect" body for fitness videos
The drama behind shooting an exercise video as your unhealthiest self
Why we, as a society, are unhealthier now than we were decades ago
How and why I came up with what is today known as 131 Method
What went into the testing process of pre-131 Method (AKA Diet Beta Test)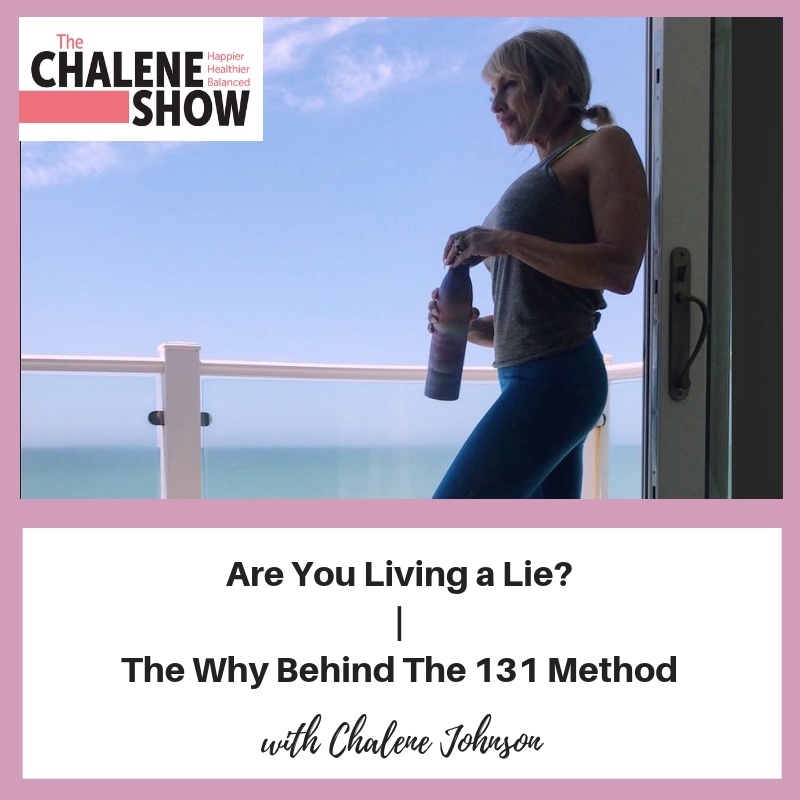 Important Links from the Show
Click here to subscribe to The Chalene Show!
Join my new PodSquad for podcast lifers, LIKE YOU!
We're back on the road with the Chalene Show Live. In conjunction with my book launch party, I am taping a live episode of the Chalene Show at the Saban Theater in Beverly Hills on April 18th. Now, that is a Thursday. PodSquad, I would love to meet you! This is going to be really special. I mean, they're all really special because I get to meet you and you guys get to meet each other and they're fun and it's the ultimate girls night out. And fellas, if you are smart, you should come with your lady or you should come to find yourself the love of your life because I have the smartest, funniest, coolest, most amazing audience, and I can't wait for you guys to meet each other. So grab your tickets now! 
So, I have worked with my publisher and they have allowed me to give anyone who pre-orders the 131 Method book a $97 value gift. It's a mindset coaching program. You pop in your earbuds and you listen to these audio lessons that are designed in a particular order to help you make over your mindset and they're yours free when you pre-order the book. You're going to want the book anyway, so you might as well pre-order it so that you can take advantage of this bonus. And you can do that by going HERE. You just enter your order number. It doesn't matter whether your order number is from Barnes and Noble or Amazon or your local mom-and-pop bookstore. As long as you have your order number, we can confirm that and we will immediately send you your free coaching program.
If you liked this episode, check out Episode #283 – How to Make Time for Health when you Have No Time
Leave me a message about this episode!
To submit requests for The Chalene Show: thechaleneshow@chalenejohnson.com
To submit requests for Build Your Tribe: buildyourtribe@chalenejohnson.com