Going Through an Adjustment Period?
Join my husband Bret and I in the car as we talk about what it's like to enter a new season of your life and face big adjustments. Whether you're getting married, going back to school, or dropping your kids off at college, this episode will provide you with some guidance and clarity in dealing with major life changes. We'll also chat a bit about how to get through an adjustment period, touching on what you can do to keep yourself balanced and in check when new changes enter your life.
In this episode, my husband and I talk all about the major transitions and adjustments we went through as we developed our personal relationship and business. We also touch on the big transitions we are going through today, like us being newly empty nesters. There's a lot to learn about going through adjustment periods and we hope we can provide you our two cents.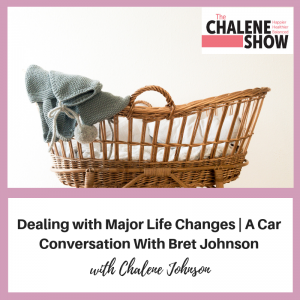 What You Will Learn In This Podcast About Adjusting to Major Life Changes:
The first major adjustment period Bret and I had in our relationship + how we figured it out. (2:40)

The major adjustments we had to make once we had our first baby, Brock. (6:40)

When we began to take our big life dreams to the next level. (11:20)

How you can use your experiences from going through something to help you the next time you go through something similar. (12:30)
Thank you for tuning in to this episode. I hope this one can serve you as a reminder that we ALL go through big changes in life, and that you are not alone. You will adjust. It won't always be easy, but you will get through it.
Important Links from the Show
Click here to subscribe to The Chalene Show.
If you liked this episode, check out  Episode 331 – Best Tips to Take Control of Your Happiness
Leave me a message about this episode!
To submit requests for The Chalene Show: thechaleneshow@chalenejohnson.com