Have you ever watched someone go live on Instagram or give a speech at a seminar and wonder, "WOW! How do they do that so seamlessly?!" If yes, well then you're in luck today! In this episode of Build Your Tribe, I'll share my own individual personal system for speaking live — whether it be on video or from the stage! 
You'll find out…
My preparation for teaching on a live Story

How to not waste people's time when live on social

What is story matching and how I utilize it when speaking

The Windshield Wiper Technique

What I DON'T memorize before I go live

How to be so prepared on stage that if your PowerPoint were to die, you can wing it

How to best incorporate slides into your presentation

What people remember most about your talk

The only part of my speech that I try to memorize

How I use the voice memo app to practice my speeches

A personal life-changing anecdote speaking at my first business event, in front of my mentor


Why it's imperative to know where you're going in your speech — with supportive examples

How I use imagery as a sense memory technique when speaking from stage

At what point I begin to relax re: my upcoming speech and incorporate some funny into my routine

The value of being YOU when communicating to an audience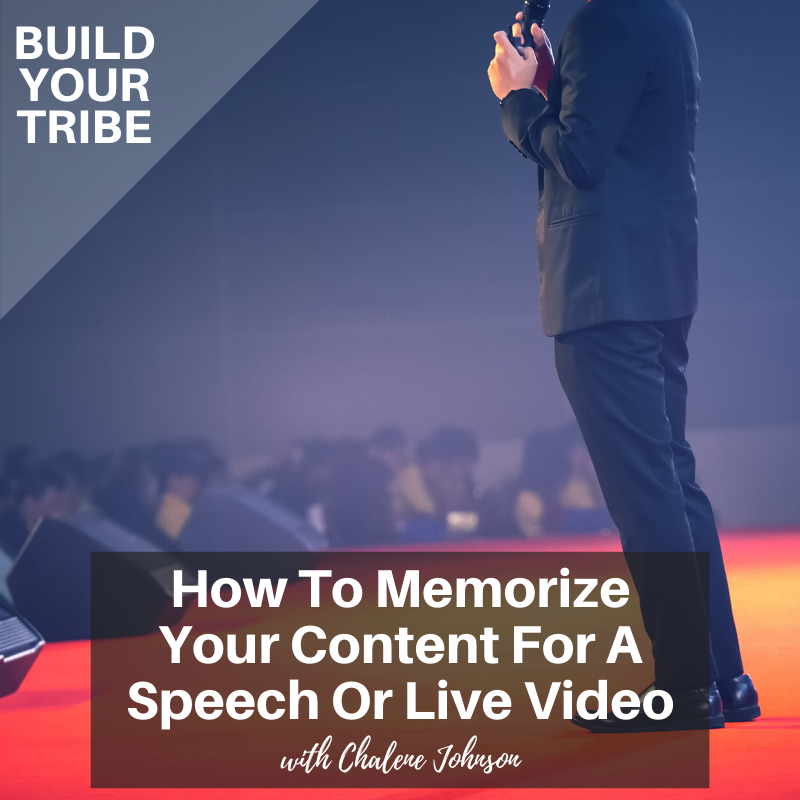 Important Links from the Show
Click here to subscribe to Build Your Tribe!
Join us at MIA LIVE! Hurry, there's very limited time to claim your tickets!!! Go to: www.chalenejohnson.com/MIALiveSale
If you liked this episode, check out Episode #364 – My 5-Minute Presentation Formula | Quick Tip Tuesday
Leave me a message about this episode!
To submit requests for The Chalene Show: thechaleneshow@chalenejohnson.com
To submit requests for Build Your Tribe: buildyourtribe@chalenejohnson.com