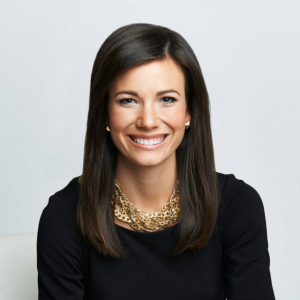 Rachel was born the year her parents, Dave and Sharon Ramsey, lost everything and filed for bankruptcy. She grew up watching the sacrifices they made, and she learned early how to save for the future, spend wisely, avoid debt, and give generously.
Rachel grew up hearing people tell her dad, "I wish I'd heard this message years ago." That fueled her desire to reach people and share the hard lessons her parents learned. It became her passion. It's why she spoke to audiences as large as 12,000 at the age of 15, and why she travels the country today encouraging audiences ranging from universities and nonprofits to corporations and associations.
Rachel has appeared on Good Morning America, The Today Show, The Meredith Vieira Show, Katie, and Fox & Friends. She's also contributed to magazines like Woman's Day and is a featured speaker at events like Smart Conference and The Legacy Journey LIVE! Her video blog launched in 2014 with the goal of making money fun, and it has become wildly popular. Her first book, a collaboration with her dad called Smart Money Smart Kids, is a number-one New York Times best-seller. In other words, the message is resonating!
Rachel is a graduate of the University of Tennessee. She lives in Franklin, Tennessee, with her husband Winston and their yellow lab, Nala.
CONNECT WITH RACEHL: http://www.rachelcruze.com/
RACHEL'S TIPS:
– Make the lessons age appropriate
– It's never too early or too late to teach your kids about money.
– What you teach a 6 and a 16 year old will look different.
Four main things to teach kids
– Work: Kids need to make the work-money connection.
– Save: Its important kids realize delayed pleasure by saving up for purchases.
– Spend: Kids need to have a little fun with the money they earn.
– Give: Giving is the most fun you can have with money. Start this habit early.
* Be an example
* Your kids are watching you.
* Make sure you're setting a good example.
* Find teachable moments in your life.
This episode was brought to you by The Marketing Impact Academy. Your online resource for creating, executing, and growing your online business. Right now is an incredible time to create an online business that provides you with passive income. Chalene's program teaches you how to create that and not have it run your life. It is possible >> CLICK HERE
Chalene's Courageous Confidence Club: www.courageousconfidenceclub.com
This program gives you the tools you need to build confidence in every area of your life. You are supported by a group of people who are going through the program with you and are a sounding board for decisions and opportunities. This program will get you unstuck from your current situation and will teach you the steps needed to get your life in the direction you want!
For help with goal setting and determining your life's priorities, check out Chalene's 30 Day Push Program: www.30daypush.com
For health and fitness advice from Chalene, head to www.cj7day.com to download her FREE program with complementary workout videos!
Chalene's Social Media:
Chalene on Facebook: http://www.facebook.com/chalene
Chalene on Instagram: http://instagram.com/chalenejohnson
Chalene on Pinterest: http://www.pinterest.com/chalenejohnson
Chalene on Twitter: http://www.twitter.com/chalenejohnson