The Practice of Meditation & Why Some People Need Movement
Are you seeking some positive and uplifting affirmations? Need help quitting the negative self-talk? Feeling stressed but don't know how to relieve the tension and mental exhaustion? I put together another moving meditation to help you check in and get in tune with yourself. If you wanna check out the one I recorded a year ago, click here. After that episode released a year ago, I heard from so many of you that you enjoyed it. I've been meaning to make another one ever since and now I FINALLY have! Make sure you listen on normal speed; really take the time to let the words sink in.
Oftentimes, traditional meditation can be intimidating or simply just challenging at first. Hopefully, this moving meditation can serve you as a simple approach to quieting the mind and finding stillness. Whether you sit still, take a walk, or flow through some yoga sequences/stretches… just press play and let's begin.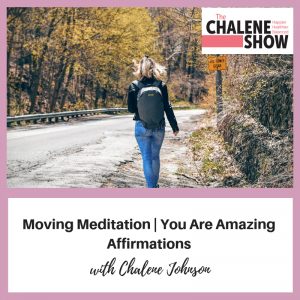 What You Will Learn In This Podcast About Moving Meditations: 
Why I turn to "moving meditations" for my meditation practice.

Why we need to hear positive affirmations.

The right and wrong time to listen to this episode.

Why traditional meditation can be incredibly intimidating.

Different ways you can listen to this podcast.

Why some people need movement to let go of the negative mind chatter.
I hope you enjoyed listening to this moving meditation, and that it invites a sense of stillness and peace in your life. It's okay to not be "perfect" or "advanced" at meditating. Just like anything else, it takes a lot of practice to shut off the mind.
Maybe, let this episode serve to you as the first step of your journey to learning how to tap into your most vulnerable self. Some of us need movement to be able to let go. So download this podcast and take it outside. If you'd like to hear more moving meditations like this one, please send me a message and give me your feedback! Thank you!
Important Links from the Show
Click here to subscribe to The Chalene Show.
If you liked this episode, check out my previous moving meditation – Episode 259 – Moving Meditation with quotes from Marcus Aurelius.
Leave me a message about this episode!
To submit requests for The Chalene Show: thechaleneshow@chalenejohnson.com