The Pareto Principle Explained
Do you have a squeaky wheel in your business? Do you feel like you are giving all your energy and attention to the employees and customers that complain the most? I want to talk to you about the 80-20 rule. You may have heard of this widely-known principle in business, the Pareto principle. It basically states that 80% of our results come from 20% of our actions. 
In other words, 80% of your success may come from just 20% of your customers or 20% of your activities. For Bret and I, our 20% came from APDs. Our Area Promotion Directs. And so we realized we could apply the 80/20 principle to our APDs! We recognized we had to establish a way to evaluate the ADPs to find out who made up the 20% that made our business success happen. Listen in the here more on how we went about that! Because once we addressed this and applied the Pareto Principle, our business doubled by that time the following year.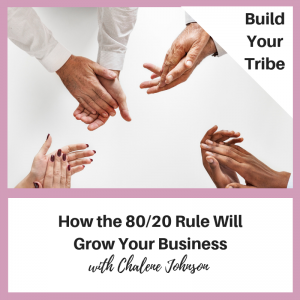 What You Will Learn In This Podcast About The Pareto Principle:
How I found promotions directors to do things for me that represented me! (2:00)

When Bret and I asked ourselves: What area of our company is creating 80% success? (3:00)

Give your time and focus on the areas where you can make the greatest impact. (5:50)

Apply the Pareto Principle. Start focusing energy on the 20% of the activities you do that create 80% of your income.

List the names of the customers, affiliates, networkers, employees, distributors, coaches, etc. that make the biggest impact on your business. (6:30)

And more about the Pareto Principle!
I hope you enjoyed this quick episode highlighting a very important rule in business that is often overlooked.
Important Links from the Show
Click here to subscribe to The Chalene Show.
If you liked this episode, check out Episode 250 – Top 5 Millionaire Mantras 
Leave me a message about this episode!
To submit requests for The Chalene Show: thechaleneshow@chalenejohnson.com
To submit requests for Build Your Tribe: buildyourtribe@chalenejohnson.com