Podcast SEO – Top Tips & Tricks For Growing Your Podcast That You Can't Find Anywhere Else
Thinking of starting your own podcast? While I could go on and on about the benefits of starting a podcast to grow your online business, this episode is for people who are already convinced they need to start one, and they want tips for getting more listeners. The kind of tips you can't just Google or find anywhere. In this episode, I talk with Podcast SEO expert Paul Colligan to get the inside scoop on search engine hacks to grow your show.
How does New & Noteworthy really work? When it comes to podcasting and getting your show seen by more people, what matters most – quality or quantity? How should you title your shows to help more people find you? Get answers to all of these questions and more in this awesome interview!
What You Will Learn About Growing Your Podcast: 
The answer to the most obvious question when starting a podcast: how do I reach people? (5:40)

Can you rename your episodes without affecting your rankings and downloads?(10:16)

Using Dropbox to organize your workflow. (12:00)

How to change out the ads in all of your episodes with the click of a button. (13:00)

Tips for editing for clear sound and re-edits. (16:42)

How to get your show seen by more people that you aren't already connected with. (17:00)

How to climb the ranks in podcasting. Is it quality or quantity that matters? (21:00)

How does New & Noteworthy really work? As well as does it actually mean anything? (21:50)

How the chart rankings work. (23:00)
How do you get more subscribers? (25:00)
What listening apps do you need to be on? (29:30)

How smart speakers will change the future of how people listen to podcasts. (30:00)

How to title your episodes for greater reach. (34:30)

Search engine optimization tips for tagging your podcast. (38:00)

Call to actions and how to grow your email list with your podcast. (42:00)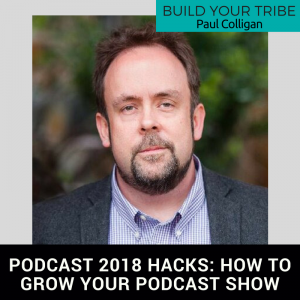 It was truly an honor to have someone on Build Your Tribe who really knows the podcasting industry. I hope you already see the value in starting your own podcast and that you find this episode as interesting and helpful as I did!
Do me a favor and let me know your favorite part of the show by leaving a comment in a review (bonus points for 5 stars)! I can't thank you enough for tuning in!
Important Links from the Show
This Show is brought to you by: www.marketingimpactacademy.com
Make a difference & make money doing it…Without it ever feeling like work.
For Paul's Tips: Text Chalene to 503-966-8066
Paul's Show: The Podcast Report
Click here to subscribe to Build Your Tribe.
If you liked this episode, check out "Start a Side Business on Social Media: Why Everyone Needs a Baby Offer."
Leave me a message about this episode!
To submit requests for The Chalene Show: thechaleneshow@chalenejohnson.com
To submit requests for Build Your Tribe: buildyourtribe@chalenejohnson.com