How to Complain Effectively
Have you ever found yourself in a situation where you desperately wanted to complain to someone? How are you supposed to know if it's appropriate to complain? In this episode, I will share with you the right and wrong times to speak up in a situation where you feel deeply agitated, annoyed, or even offended. You'll also learn why it's important to frame a constructive complaint.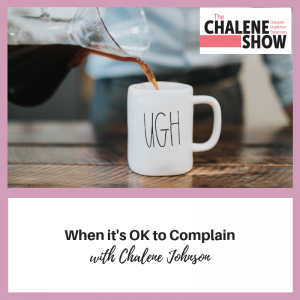 Thank you for tuning in to this episode. I hope coming out of this lesson that you have learned it's possible to complain effectively!
Important Links from the Show
Click here to subscribe to The Chalene Show.
If you liked this episode, check out
Leave me a message about this episode!
To submit requests for The Chalene Show: thechaleneshow@chalenejohnson.com