If you want to be really good in business, you have to care enough to learn the skill of negotiation — as it's one of the most powerful tools you can master as an entrepreneur. So today, on this Quick Tip Tuesday, I'll provide tips on how / when / why to negotiate just about anything.
You'll find out:
The fear associated with negotiation (and why we often avoid it)
Why almost everything is negotiable (with supportive examples)
The very first thing you must do before entering the negotiating process
The best books I've ever read on negotiating
When to negotiate (up or down)
What it means to become a mirror of the person you're negotiating with
The truth behind "the price is not negotiable" and how to respond to that statement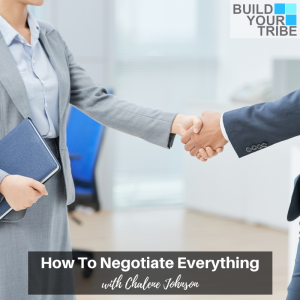 Important Links from the Show
Click here to subscribe to Build Your Tribe!
Click here to rate and review!
Make sure you scroll down, tap to rate with 5 stars, and then select, "Write a Review." Then be sure to DM me with a screenshot and I'll do my best to read your review on the air!
If you liked this episode, check out Episode #451 – The Most Important Ability for Entrepreneurs | The Ability to Change
Leave me a message about this episode!
To submit requests for The Chalene Show: thechaleneshow@chalenejohnson.com
To submit requests for Build Your Tribe: buildyourtribe@chalenejohnson.com