If you're at all concerned about your (or your family members') cognitive abilities, this is the episode to listen to! Today, I'll talk with Dr. Dean Sherzai — a neurologist and an expert in Dementia and geriatrics. After you listen to this episode, you'll be so much more aware of the simple daily lifestyle hacks you can start doing now (as early as your 20's, 30's and 40's) to help you and your loved ones drastically prolong the onset of — and maybe even avoid, altogether — Alzheimer's or Dementia.
You'll find out:
Dr. Dean's backstory
What Dr. Dean means by the fact that we're approaching an avalanche of Alzheimer's
Why Alzheimer's is the fastest-growing epidemic in the west
Why, if you take care of the 4 traumas throughout your life, the majority of people will not get Alzheimer's
How early the fight against Alzheimer's should start
Why / how Alzheimer's is a woman-centered disease
The power of exercise re: getting Alzheimer's
Cardio vs weight training re: protecting yourself from Alzheimer's / Dementia
Why / how strengthening your legs can reduce the chances of getting Dementia
The link between sleep deprivation and Alzheimer's
What might be considered one night's bad sleep
Studies on those who have had compromised sleep for a number of years
Why having kids might be a contributing factor to getting Alzheimer's
Real attainable practices and tips to reduce our stress (thereby reducing our chances of getting Dementia)
Why / how all stress isn't equal
Why your activities should have 3 elements: purpose, complexity and challenge (and what that means)
Is it possible to slow the progression of Alzheimer's for one who is already in the later stages?
The most important things to focus on TODAY to reduce the likelihood of getting Alzheimer's (and the 1st place to start)
Why moderation is a word people use to get out of doing things
Research on MCT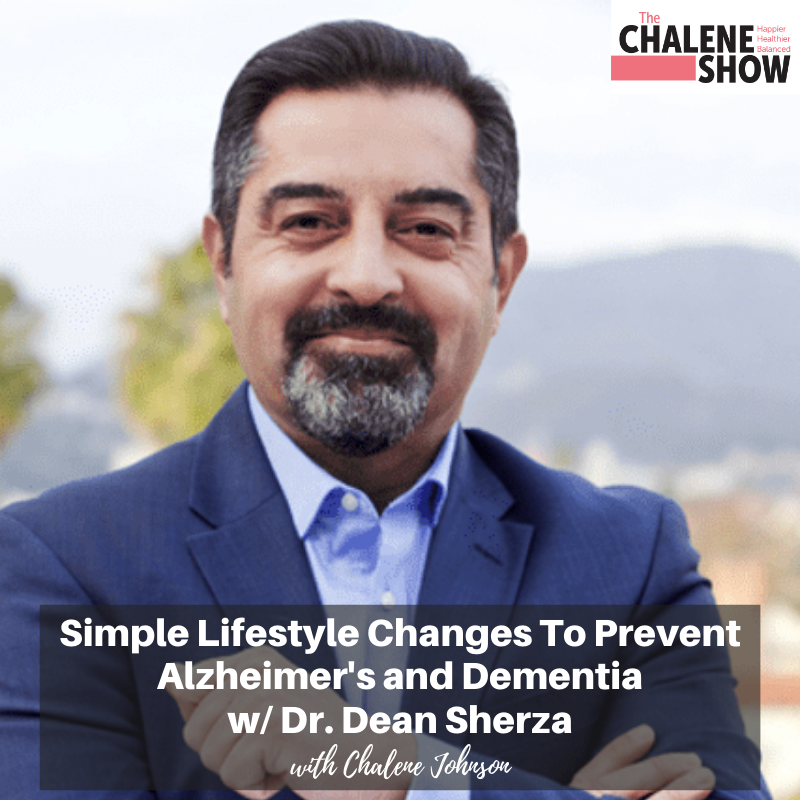 Important Links from the Show
Click here to subscribe to The Chalene Show!
Click here to rate and review!
Make sure you scroll down, tap to rate with 5 stars, and then select, "Write a Review." Then be sure to DM me with a screenshot and I'll do my best to read your review on the air! 
Learn more about Dr. Dean Sherzai by going to TeamSherzai.com
Follow Dr. Dean Sherzai and his Wife Dr. Ayesha Sherzai on Instagram and Facebook 
Get Dr. Dean Sherzai and his Wife Dr. Ayesha Sherzai's books The Alzheimer's Solution & The 30-Day Alzheimer's Solution
If you liked this episode, check out Episode #529 – Why is Alzheimer's More Common in Women? | Dr. Lisa Mosconi | XX Brain
Leave me a message about this episode!
To submit requests for The Chalene Show: thechaleneshow@chalenejohnson.com
To submit requests for Build Your Tribe: buildyourtribe@chalenejohnson.com