Strategic Steps to Rebrand Yourself or Make a Career Change
Are you wondering how to rebrand yourself or make a career change? You're already known for that thing you do now, and you're really good at it…but your heart just isn't in it, and you're dying to try something new? Where do you start? This is your episode! Chalene's guest, Zenovia Andrews – a digital marketing strategist who transforms people into immortal brands – reveals the steps to take and questions to ask to begin that transition.
You'll love Zenovia! She's the real deal! Today, she'll be sharing how to transition or change your personal brand when you're not quite sure if you can make it in that new business or career as well as specific strategies to shift your mindset in order to make that happen.
There are so many helpful tips in here that I implemented myself as I created the 131 Method and stepped into the diet industry when my world had previously been all about fitness and exercise. I know you'll find them helpful, too!
What You'll Learn in This Podcast on Rebranding:
What led Zenovia to making a major career change and how she did it. (1:46)

How to cope with feelings of fear when rebranding yourself or changing what you do when you're leaving something you're really good at. (3:50)

How to boost your confidence enough to make that leap or brand transition. (5:45)

How to package and market your gift online and the questions you must ask to figure out how to rebrand yourself. (6:25)

The importance of understanding that your brand isn't about you, it's about the customer you want to attract. (8:45)

Specifics on curiosity marketing and how to use social media to learn exactly what your ideal potential customers actually want and how you can better serve them. (11:00)

Why you should never guess what your customer needs and what you should be doing instead. (12:10)

Recommendations for building a stronger, more recognizable brand when rebranding yourself or establishing a new business. (12:30)

How to serve versus sell. (13:00)

The power of self assessments in marketing and attracting the right people to you. (13:40)

A breakdown of the tactical side of transitioning your brand. (14:45)

How to know if you need to rebrand your social media or start from scratch. (15:20)

Why you should let people in on the journey as you make your brand transition. (17:00)

If you should continue to serve your past market or completely disconnect from your past career or business when rebranding or making a career change. (18:00)

How to recognize if you're falling back on what's comfortable in terms of your brand versus moving forward. (19:45)

How to get more comfortable and confident with your new personal brand and how to practice it. (21:15)

Why you need a cheat sheet for rebranding yourself. (22:00)

How to price your offer when starting something new. (23:45)

The pitfalls of undervaluing what you have to offer and how it can affect your new business. (27:36)

How to apply these concepts of rebranding yourself to network marketing and how to make yourself stand out against your competition. (29:00)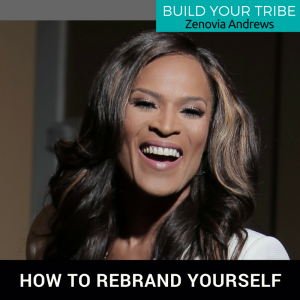 I found this interview incredibly insightful! I hope you enjoyed it as much as I did. Can I ask you a favor? If you haven't already, will you write a review for the show? Not only is this a really nice thing you can do for me (and I'm so grateful), but it's something nice you can do for others, too. Your review helps other people find the show.
It's my goal to be brief, be bright, make it fun, then be done! So that concludes another episode of Build Your Tribe. See you next time!
Important Links from the Show on How to Rebrand Yourself or Make a Career Change
Get Zenovia's free ebook: www.allsystemsgobook.com
For More Info on MaxOut Group:  www.maxoutgroup.com

Here's The System I Use Every Day to be More Organized & Crazy Productive:
www.smartlifepushjournal.com

This Show is Brought to You By:
www.marketingimpactacademy.com
Make a difference & make money doing it…
Without it ever feeling like work.
Click here to subscribe to Build Your Tribe & leave a review of the show.
Leave me a message about this episode on Rebranding!
To submit requests for The Chalene Show: thechaleneshow@chalenejohnson.com
To submit requests for Build Your Tribe: buildyourtribe@chalenejohnson.com