Reinventing Your Career, Creating the Life You Want & Never Settling for Less Than You Deserve
Join me for an interview with comedian Heather McDonald on reinventing yourself – whether that be your career, your business, or growing as a person – and standing up for what you want in the face of challenge and adversity. You might know Heather from the "Chelsea Lately" TV show or her amazing podcast "Juicy Scoop." In this very different and FUN episode, we talk about everything from reinventing your career, building a tribe, and the MeToo movement, to working with your partner. If you enjoy "girlfriend" talk, you'll love this episode.
Heather McDonald is a best-selling author, she's been featured on Netflix and Showtime, and she was a writer and comedian for "Chelsea Lately" for 7 years. She had an amazing gig. But imagine showing up to work one day to find out you no longer have a job. That's what Heather did, and in this episode, we talk about how her podcast "Juicy Scoop" came about and the process of reinventing yourself with the ever-changing landscape of business and social media. I love how honest and real Heather is, and I think you'll really enjoy this interview, too!
What You Will Learn In This Podcast on Reinventing Yourself:
Having a backup plan and reinventing yourself when there is no certainty in your career. (2:40)

How Heather made a transition into podcasting. (5:00)

Building a tribe with a podcast. (6:30)

What is a patreon podcast and how to monetize a podcast. (9:00)

Why the day Heather announced her patreon was the worst day of her life. (10:42)

Starting a Facebook community for patreon members. (12:30)

Why Heather's show connects with so many people. (16:20)

Why she decided to ban politics from her show outside of the MeToo movement, as well as how she was personally involved in MeToo. (21:00)

What's in store for the future of podcasting with so many celebrities now jumping on board. (27:30)

The ranking of podcast shows and will the landscape change with patreons. (28:30)

What about your life would you improve? (35:00)

Working with your spouse. (36:00)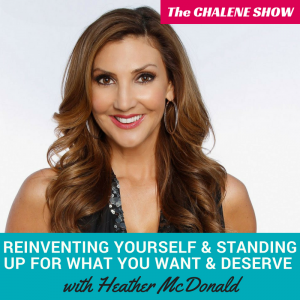 This episode of The Chalene Show was different, but oh so fun! If you like girlfriend banter, you'll love this episode as well as Heather's podcast Juicy Scoop. Check it out! As always, thanks so much for listening, for your reviews and for sharing the show! YOU ARE the bomb dot com!
Important Links from the Show
For information on Heather's live events: www.heathermcdonald.net
Heather's Podcast: Juicy Scoop
Click here to subscribe to The Chalene Show.
If you liked this episode, check out "Top Podcasts 2018: Best Podcasts for Health, Business, Personal Development & Entertainment."
Leave me a message about this episode!
To submit requests for The Chalene Show: thechaleneshow@chalenejohnson.com
To submit requests for Build Your Tribe: buildyourtribe@chalenejohnson.com