Finding Inspiration & Pushing Through to the End
In this special episode, I had the honor to sit down and interview Hungry Girl, Lisa Lillien. Lisa is a New York Times' Bestselling author of over 12 books! Not only that… she's a valued blogger, a podcast host and has hosted top-rated cooking shows on networks such as The Cooking Channel or The Food Network. Many find inspiration and motivation from her strong will and determination, especially me!
To all my lifers, I assure you… Lisa is our kind of down to earth girl that just loves to help people! I know you'll love her! In this interview, Lisa and I talk about writing books and what inspired her to start her Hungry Girl Empire. I think you'll get a lot of insight from hearing the way in which she struggled in the development of her empire and how she overcame all her roadblocks. Ladies, this episode is one you DO NOT want to miss.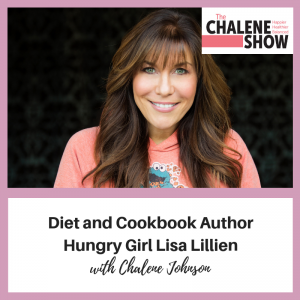 What You Will Learn In This Podcast About Finding Inspiration:
Chalene asks Lisa: What's your process? What makes writing a book easier for you? (3:15)

When Lisa first started thinking of writing a book. (4:50)

How Lisa found her first publisher and her thoughts on self-publishing thoughts. (6:30)

Lisa shares her goal with her empire. (8:00)

Lisa's reaction to being told she was on the New York Times' Best Sellers list. (8:30)

And more!
Being able to Interview Lisa was honestly such a gift, and I hope you really glean insight from her words as you tune in to this episode. I know that I learned so much from her! It always amazes me how much there is yet to learn in this world.
Important Links from the Show
Click here to subscribe to The Chalene Show.
Follow Hungry Girl – Lisa Lillien on social media!
Instagram: @hungrygirl
Facebook: HungryGirl
Website: www.hungry-girl.com
Listen to Lisa's podcast: "Hungry Girl Chew the Right Thing"
If you liked this episode, check out
To submit requests for The Chalene Show: thechaleneshow@chalenejohnson.com