How to Observe Your Stool & Assess Your Gut Health
Feces. Your bowel movements. Your digestive routine. I know what you're probably thinking… EWW! Let's talk about it all because It's all more important than you probably realize. Welcome to Stool School! This episode will serve as a reminder that your gut and digestive health are crucial to your overall health and wellbeing. Listen in to form knowledge around what your stool is indicating about your health.
So what exactly is your stool telling you? Have you struggled with irregular or uncomfortable bowel movements? This episode will bring you insight to an aspect of your health that is commonly dismissed or ignored: your poop. Yes, you heard me right, and YES we are going to talk about it. Your bowel movements are clear indicators of what may be going on in your body AND these indicators should not be ignored.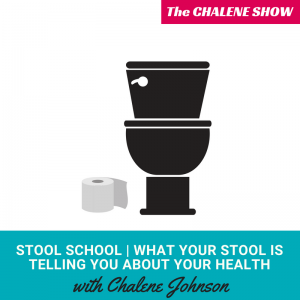 Attached below, you will find a downloadable PDF you can refer to when you are observing your stool.

I hope you enjoyed this episode and that you grew to realize that this topic isn't actually that awful to discuss! If anything, it's quite interesting! I hope you now feel confident in assessing your gut health via observing your bowel movements. If you have any questions, feel free to message me (you can do so at the bottom of the page).
Important Links from the Show
Click here to subscribe to The Chalene Show.
If you liked this episode, check out Episode 329 – Leaky Gut: What You Need to Know. While we are already on the subject of gut health, why not go and check out some good info on Leaky Gut? It's quite possible that you may be experiencing some Leaky Gut symptoms without even realizing it!
Leave me a message about this episode!
To submit requests for The Chalene Show: thechaleneshow@chalenejohnson.com
To submit requests for Build Your Tribe: buildyourtribe@chalenejohnson.com