How to Quit the Negative Self Talk & Reduce Social Anxiety
Do you ever find yourself in discomfort when you are public speaking, at a social gathering or party, meeting new people, or when you're being watched or observed? We all have more in common than you'd probably think. All of us deal with social anxiety in some way. In this episode, you'll get to tune in to The Chalene Show Live recorded in Dallas, Texas, where I preach all about social anxiety. Learn how to address your anxieties and catch yourself when you're bullying yourself!
The thing we all have in common is ROOM FOR GROWTH. Another is that most of us don't want to be "found out". We don't want people to find out we aren't as smart as we appear to be, that we aren't as pretty as our SnapChat filters, that we are actually insecure and not as confident as we seem from a distance, that we're not as interesting in person as we are on social media, and more. Self-talk is the one thing that feeds this fear. In this episode, I share with you some strategies to get rid of the negative self-talk and get more comfortable with social settings and reduce your social anxiety altogether.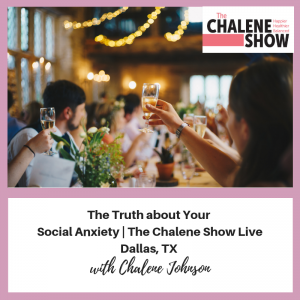 What You Will Learn in This Podcast About Social Anxiety:
Social Anxiety Disorders vs Social Anxiety Likes (3:00)
When social anxiety comes up most often for me. (4:45)
Why you have to allow someone to treat you poorly (6:30)
How to catch yourself when you're bullying yourself (7:00)
Ways we often deal with social anxiety. (9:00)
The act of placing labels on people. (12:00)
I hope this episode served you at a time in which you needed to hear it, especially with the holidays around the corner! Remember to take these tips and implement them in a way comfortable to you, but also challenge yourself to do the uncomfortable in social settings and trust me… you may surprise yourself (and others too).
Important Links from the Show
Click here to subscribe to The Chalene Show.
If you liked this episode, check out Episode 350 – Solution Based Thinking.
Want to attend a Chalene Show LIVE Event in a city nearest to you? Head to ChaleneShowLIVE.com to get tickets for you and your besties now! Join us for an unforgettable night where you'll get top tips and practical steps to live your best life, enjoy a few laughs and learn to kick ass while you're at it! GO, GO, GO.
Leave me a message about this episode!
To submit requests for The Chalene Show: thechaleneshow@chalenejohnson.com