Making Money on Youtube Made Easy
Did you know that YouTube is the number 2 search engine? If not you're in for a treat with this episode!!! I sit down with YouTube expert, author, AND speaker Sean Cannell. We talk all about monetizing your YouTube channel. Sean gives you the top YouTube tips for 2018 and 2019!

YouTube is up to 2 billion monthly active users and the consumption on mobile devices and smart TV's is reaching record highs. Did you know that videos that are between 7 and 16 minutes are the best performing? In this episode, Sean shares with you the 7 "C's" that will help you monetize and make your YouTube videos perform at its very best.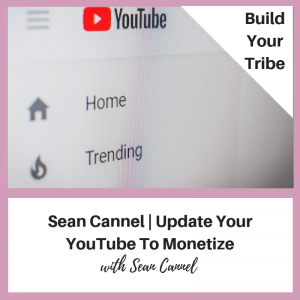 Thank you for listening in to this episode! Be sure to check out Sean Cannell's various platforms if you are interested in learning more about Youtube, what he ultimately practices and preaches!
Important Links from the Show
To Learn more about this topic go to www.videoinfluencers.com
To learn more about Sean go to https://www.seancannell.com/
Sean's Book can be found here: www.TubeSecretsBook.com
Click here to subscribe to Build Your Tribe.
Click here to subscribe to The Chalene Show.
If you liked this episode, check out Episode 251 – 5 Habits to Avoid as a New Entrepreneur
Leave me a message about this episode!
To submit requests for The Chalene Show: thechaleneshow@chalenejohnson.com
To submit requests for Build Your Tribe: buildyourtribe@chalenejohnson.com