Reach More People With Blogs
Are you trying to reach more people or create more sales? Are you frustrated with the algorithms and trying to figure them out on social media? Blogs are more important than ever right now. With social media becoming more and more saturated it can be pretty difficult to reach the people that could be potential customers. Gone are the days where you can post it and forget it!! It's time to change it up and focus on blogs!
In this episode, you will learn what the new trends are (especially with blogging) to reach more organic traffic. You will learn the strategies we are using when it comes to our blog, why we made this switch, AND why it is our primary focus. We will share with you specific strategies you can implement so that you can attract a cold audience too.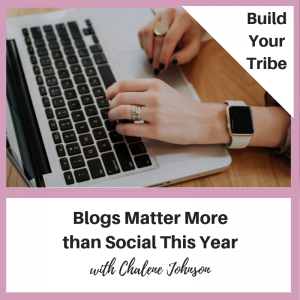 I hope you enjoyed listening in to this episode. Trust me on this one, you're going to want to change things up before everyone else does!
Important Links from the Show
Click here to subscribe to Build Your Tribe.
If you liked this episode, check out Episode 237 – Protect Your Online Business – What You Need to Know Now with Autumn Witt Boyd
Leave me a message about this episode!
To submit requests for Build Your Tribe: buildyourtribe@chalenejohnson.com