As I've repeated over and over again, sleep is the most important thing for maintaining every aspect of your health. So today, I welcome back one of our most popular guests, Dr. Michael Breus (AKA The Sleep Doctor)! You'll hear us discuss the latest sleep studies, why we wake up in the middle of the night, possible causes of Alzheimer's and so much more!
You'll also find out:
3 areas that have really evolved with sleep in the last few years
At-home devices that actually work (almost) as well as a sleep laboratory
The importance of a sleep coach
The difference between sleep drive and sleep rhythm
The perfect time to be intimate with your partner
Suggestions to those who have trouble sleeping (and have tried all the things)
The biggest issue with sleeping pills
Thoughts on over-the-counter sleep aids
What is the glymphatic system of the brain and how it affects your sleep
How to use your Oura ring and Fitbit more effectively
How discipline and acceptance should factor into your sleep life
How caffeine and alcohol play a role with sleep
Why you shouldn't try to fall asleep
What is 4-7-8 breathing
Why it's a bad decision to go to bed early the night after a bad night's sleep
What exactly is REM sleep
Why 8 hours of sleep is a myth
What is a quaran-dream
Thoughts about TV / phone consumption before bed
Why you should never nap if you have insomnia
Are blue-light-blocking glasses really effective?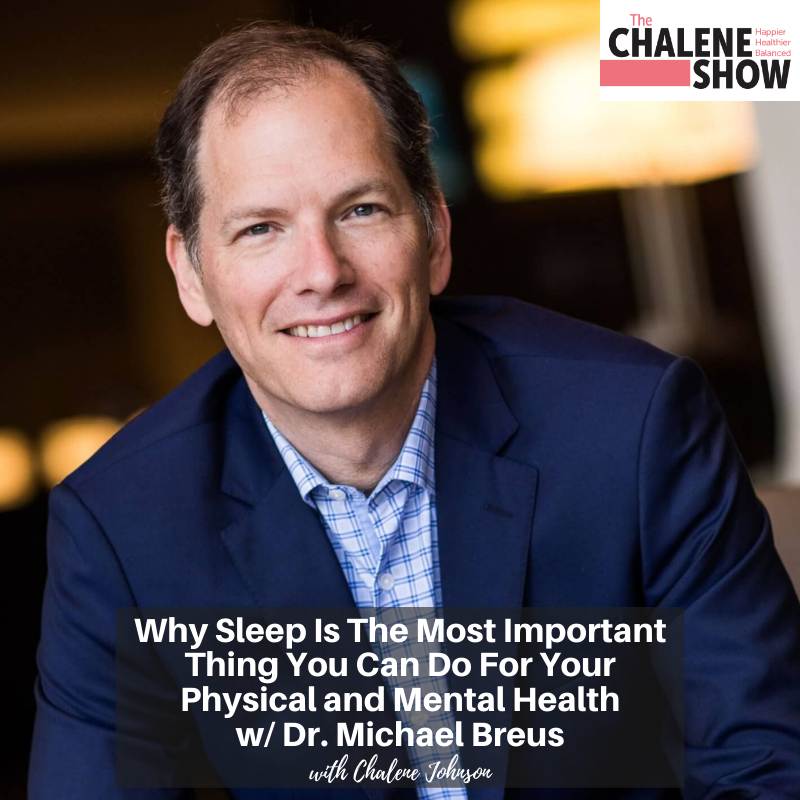 Important Links from the Show
Click here to subscribe to The Chalene Show!
Click here to rate and review!
Make sure you scroll down, tap to rate with 5 stars, and then select, "Write a Review." Then be sure to DM me with a screenshot and I'll do my best to read your review on the air!
Learn more and check out all the resources Dr. Breus has to offer at TheSleepDoctor.com
Check out Dr Breus's Blogs 
Blog on Cannabis vs Alcohol and Sleep
Check out the book The Power of When
Pre-Order Dr. Breus's new book Energized
If you liked this episode, check out:
235 – How Sleep Deprivation Affects Weight Gain with Dr Michael Breus
237 – How to Radically Improve Your Life by Knowing Your Natural Sleep Type Part Two with Dr Michael Breus
Leave me a message about this episode!
To submit requests for The Chalene Show: thechaleneshow@chalenejohnson.com
To submit requests for Build Your Tribe: buildyourtribe@chalenejohnson.com