Writing sales copy — and copywriting in itself — is an art form. If done the right way, it can be very lucrative for a business. Today, I speak with Wahida Lakhani (super talented copywriter, involved in many Team Johnson and SmartLife projects). Wahida shares the secrets you need to know when writing any type of copy: from email to social media post to website. You'll definitely want to take notes and refer back to this episode whenever you find yourself about to tackle some copy.
You'll find out:
The backstory on how/why I was introduced to Wahida
How Wahida got into the world of copywriting
What happens behind the scenes of an affiliate launch
How formal training factors into Wahida's gifts as a writer
How much of copywriting is timeless
How much of copywriting is formulaic
When you know you've hit gold as a copywriter
The difference between copy and sales copy
The biggest mistake people (especially entrepreneurs) make re: writing sales copy
An example of copy that doesn't address an objection and, then, how Wahida would revise it
Wahida breaks down her process for figuring out her customer's voice / essence
The 2 parts that make up your Brand Voice Architecture
The truest way to find your brand voice
Why 50% of being a great copywriter is knowing how to edit your copy
The formulaic method to writing a sales email
The questions to ask yourself when writing a sales email
Why there's always the mention of the promise in a sales email sequence (and not necessarily the sale)
Why it's important to think of sales copy re: social media (even when you don't have an email list, website, etc.)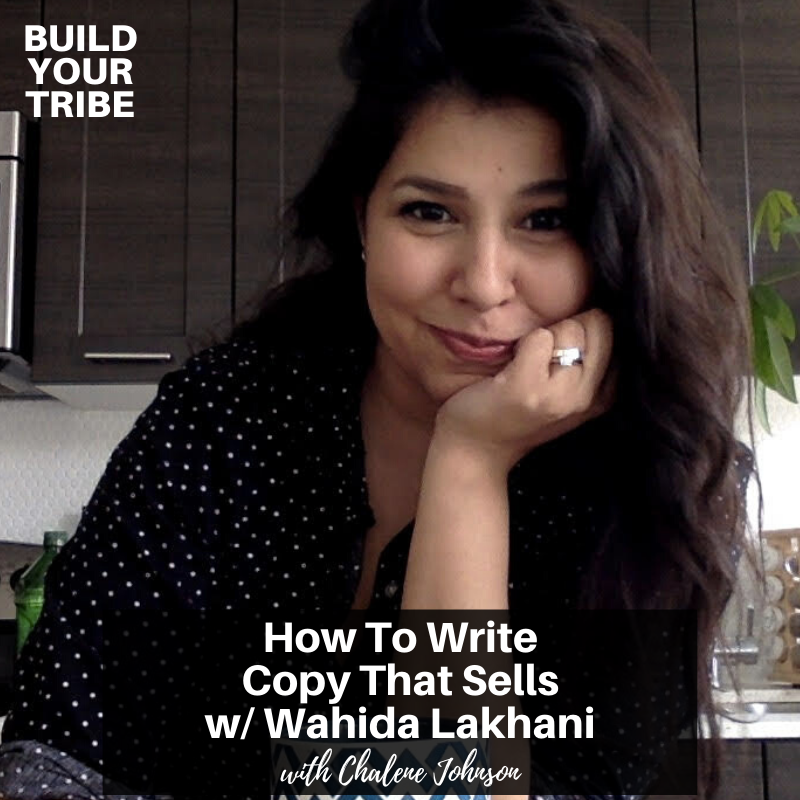 Important Links from the Show
Click here to subscribe to Build Your Tribe!
Click here to rate and review!
Make sure you scroll down, tap to rate with 5 stars, and then select, "Write a Review." Then be sure to DM me with a screenshot and I'll do my best to read your review on the air! 
To take advantage of Wahida's downloads go to: BrandsAreStories.com
To contact Wahida go to: BrandsAreStories.com/contact
Follow Wahida on Instagram
Learn more about the copywriting editing method at: The Halbert Copywriting Method
If you liked this episode, check out Episode #333 – 14 Steps To Write Your First Ebook
Leave me a message about this episode!
To submit requests for The Chalene Show: thechaleneshow@chalenejohnson.com
To submit requests for Build Your Tribe: buildyourtribe@chalenejohnson.com