In this episode, Brock takes you through 7 "yes or no" questions geared toward helping you figure out what your unique offer is. If you follow along (pen and paper required) and keep score (yes, there's a scoring system), Brock is confident you'll have an "a-ha!" moment — resulting in what might just be YOUR offer by the end of the show.
You'll hear…
Brock's story on how he discovered he has something to offer

How to score your answers to these questions

Why you're doing a disservice by not sharing your knowledge / expertise / offer

Why and how we should reframe our thoughts when we look around and see a ton of other people offering something similar to us

An off-putting DM Brock received and how he responded

The mindset Brock takes on when sharing his experience (knowing, like you, he's not a "leading" expert)

Words of encouragement to create your unique offer
The following 7 questions (with a break down for each):
Do you believe there is at least one thing that you've figured out that you used to struggle with?

Do you have any notable personal setbacks or challenges that you've either survived or successfully overcome or navigated in the last three years?

Do you have any interests, hobbies or passions that you regularly dedicate time to?

Do your friends or family often seek your advice on certain topics or areas?

Do you feel particularly called to serve the world in some way?

Have you learned to do something new in the last three to five years

—

that required some extra steps?

Do you have any unique ways of doing something or thinking about something?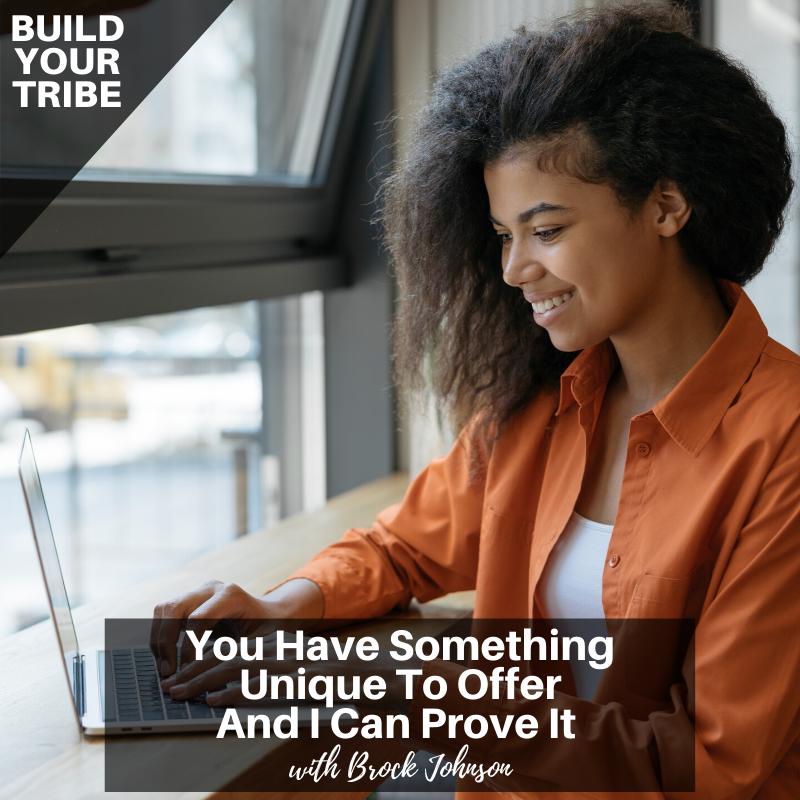 Important Links from the Show
Click here to subscribe to Build Your Tribe!
Leave Brock or me a message or ask us a question at ‪(619) 500-4819‬
Sign up for Marketing Impact Academy at a once in a lifetime discounted rate! chalene.com/miaprivate
Not sure what your thing is? Go to Chalene.com/MyThing
If you liked this episode, check out Episode #382 – Your Business Turned Upside Down… Now What?
Leave me a message about this episode!
To submit requests for The Chalene Show: thechaleneshow@chalenejohnson.com
To submit requests for Build Your Tribe: buildyourtribe@chalenejohnson.com