The Right and Wrong Ways to Get Out of a Financial Struggle
Money gives you choices. It gives you the freedom to do things you really want to do. No, money does not buy you happiness, but it sure does provide a lot of freedom from stress, especially within relationships. My husband Bret and I, in the earlier stages of our business, were at one point half a million dollars in debt. Listen in and you'll learn how we dug ourselves out of a hole and the lessons we learned along the way.
No matter who you are, I'm sure you could use a little more money. It really can be so easy. There are so many things you can do to get started, and in this episode, I share with you a few different ideas.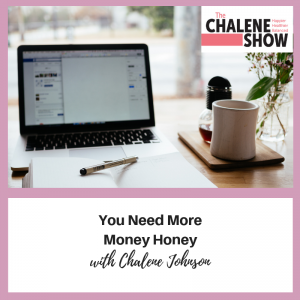 What You Will Learn In This Podcast About Making More Money: 
No matter what, you probably need more money. Here's why. (7:20)

How it can be so easy to make more money from home. (8:15)

How to create an online course to make more money. (10:00)

The number one cause of divorce. (13:00)

More info on the Marketing Impact Academy and how it can help you make more money. (17:30)
I hope you enjoyed this episode. Remember that you are incredibly valuable and you can do anything you set your mine too! You don't need to stress or quit your job to make an extra income. Get started today.
Important Links from the Show
Head to MarketingImpactAcademy.com today to sign up and become an MIA student! Learn how to make more money with ease.
Click here to subscribe to The Chalene Show.
Click here to subscribe to Build Your Tribe.
If you liked this episode, check out Episode 321 – 5 Minutes to More Freedom.
Leave me a message about this episode!
To submit requests for The Chalene Show: thechaleneshow@chalenejohnson.com